Back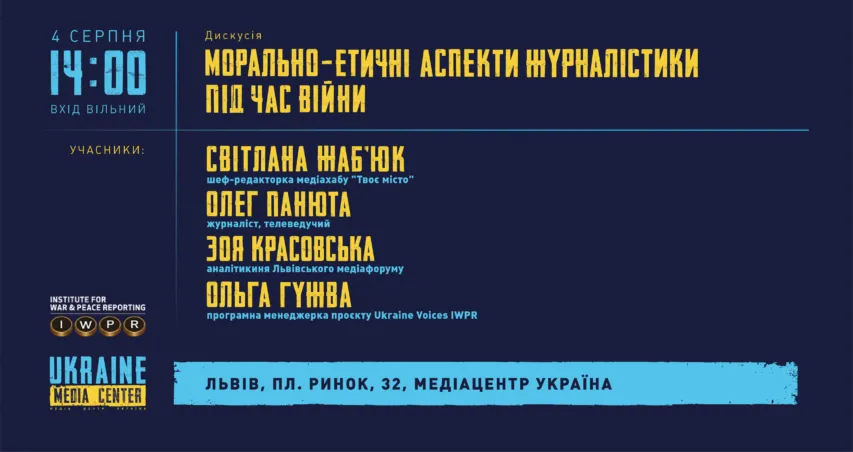 04.08.2022, 14:00
Media Center Ukraine is hosting a discussion of: Moral and Ethical Aspects of Journalism during the War
On August 4, Media Center Ukraine is hosting a discussion of: Moral and Ethical Aspects of Journalism during the War
Participants:
Svitlana Zhabyuk, Managing Editor of Tvoe Misto media hub
Oleg Paniuta, Journalist, TV host
Zoya Krasovska, Analyst of Lviv Media Forum
Olga Guzhva, Program Manager of IWPR's Ukraine Voices project
Issues to be discussed:
War and journalists' vocabulary: What, about whom, and how do we speak?
How should the media depict the war and its victims?
Clickbait and a successful headline: What is the difference?
Prompt reporting or incessant source verification. How to find the balance?
The discussion will take place in the office of Media Center Ukraine at 32 Rynok Sq. on Thursday, August 4
Event partner: Institute for War & Peace Reporting (IWPR), Ukraine Voices Project
The event will start at 2:00 PM
The event is expected to take about 1 hour
Free admission
Visitors are requested to come 10 to 15 minutes before the event starts.
Read more: https://mediacenter.org.ua/news