Back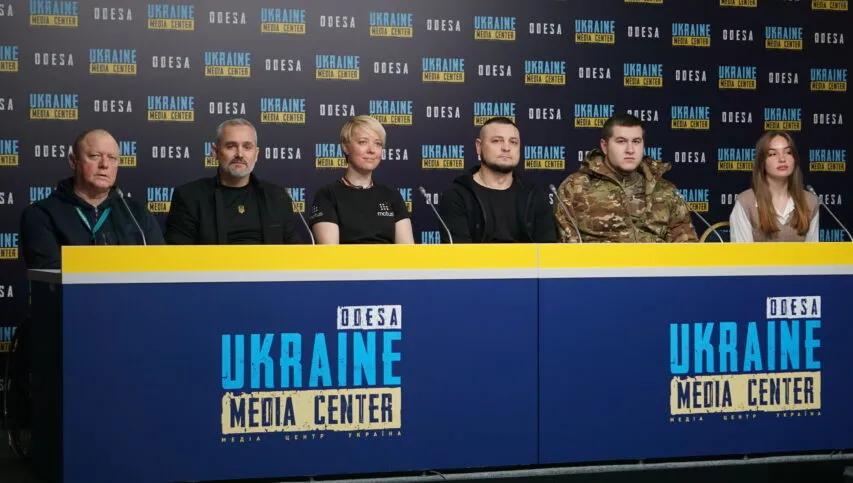 Photo by Media Center Ukraine – Odesa: Oleh Sokolov, Commissioner for Human Rights of people with disabilities in Odesa oblast; Dmytro Vychyk, head of the NGO "Anti-Discrimination Confederation"; Tetiana Lyvandovska, physiotherapist, rehabilitation center MOTUS; Stas Meladze, serviceman; Roman Horodensky, serviceman; Ruslana Danіlkіna, servicewoman
April 27, 2023, 14:24
Many persons with reduced mobility cannot receive rehabilitation services due to the physical inaccessibility of these services – expert
Neither transport nor some medical facilities are suitable for them. Tetiana Livandovska, a physical therapist at the MOTUS rehabilitation center, told about this at a briefing at the Media Center Ukraine – Odesa.
""Disadvantages do not start from the apartment or the streets, but even from medical facilities, which I saw with my own eyes. For example, in one of the city's children's hospitals, intensive care is on the second floor, and administration is on the first floor, not the other way around. It was difficult for people in wheelchairs to go up there, because the elevator was not adapted for this," – said the specialist.
She also added that sometimes their center cannot take people for rehabilitation because they simply cannot get there. MOTUS center has its own car for transporting persons with reduced mobilities, but often it`s not enough.
"We cooperated with a man, who owned a car equipped to transport people with disabilities. But as he said, according to the law, very strict requirements are imposed on such drivers and such cars. So later he gave up this activity," – Livandovska said.
As military serviceman Roman Horodenskyi said, he also encountered inconveniences when he was being treated in a military hospital – he had to ask other people for help in order to breathe fresh air.
"I live out of town, and it is difficult to get to the city. Route taxis are not adapted for the transportation of people in wheelchairs, and passenger cars do not always have a place for a wheelchair. This has a negative effect on the psychological state," – serviceman said.
Ruslana Danilkina, a servicewoman, also said that she faced inconveniences in the military hospital. "The elevator in this institution was inconvenient for people with amputations like mine – an amputation above the knee. Once I had to use an ambulance. It was a modern car, but I couldn't get into it on crutches, as it was too high," – Danilkina said.
She also added that she was currently undergoing treatment in a special rehabilitation facility. Although some doors there are too heavy for a person with a disability to open them.
According to Tetiana Livandovska, most of the decisions regarding the accessible environment made by officials are "either simple declarations or too bombastic."
"Officials say that they will build a modern rehabilitation center or a hospital… But it turns out to be unsystematic, thoughtless, superficial. In the end, we receive just slightly wider doors or normal ramps," – the specialist concluded.
Read more: https://mediacenter.org.ua/news