Back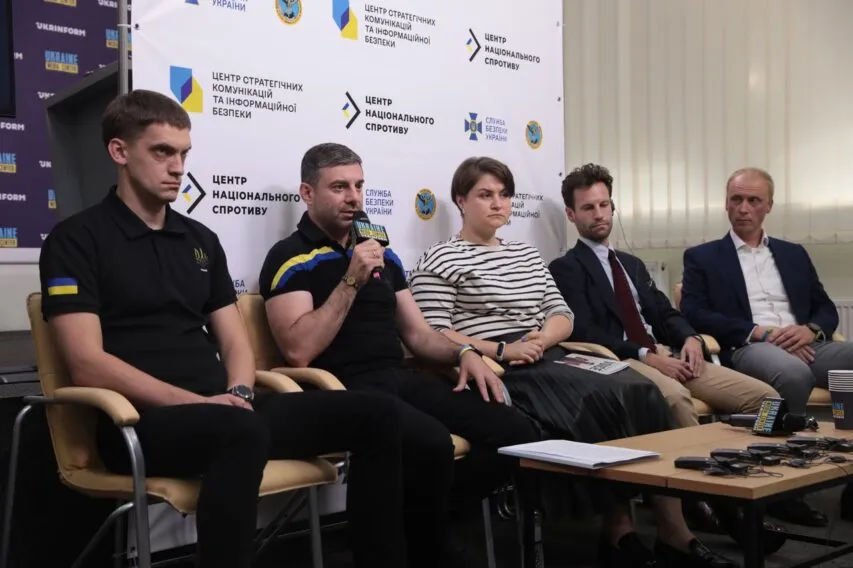 September 8, 2023, 17:38
Jail term for Ukrainian songs and symbols: Dmytro Lubinets spoke about the filtering measures taken by the occupiers in the Russian-controlled territories 
The occupiers have created 'filtration' systems in the temporarily occupied territories. In particular, the 'filtration' operations are carried out when people seek to leave the settlement. While enduring the process, family members are separated and asked questions related to Ukraine. There have been cases when Ukrainians were not only detained but also imprisoned based on their answers to the occupiers' questions. One of the questions the occupiers ask citizens was whether they sang Ukrainian songs, hung the Ukrainian flag, or used national Ukrainian symbols at home.
Dmytro Lubinets, the Ukrainian Parliament Commissioner for Human Rights, made this report during a press conference on the situation in the temporarily occupied territories of eastern and southern Ukraine in the context of the sham election held by the invaders, which took place within the framework of the country's main discussion platform the BrainHub at the Media Center Ukraine – Ukrinform. This event was organized by Media Center Ukraine – Ukrinform and the National Resistance Center of the Special Operations Forces.
"It's natural for citizens to sing the Ukrainian anthem, living in Ukraine, among other things. There are documented cases of family members detained and imprisoned on this basis alone. Then the children were put either under the care of relatives, if any, or, if there were no relatives, the children were left with further. For example, in the Donetsk region, there have been cases when children were sent to Donetsk, a place of detention for children. And in the future, these groups were transferred to the territory of Russia," he said.
Dmytro Lubinets also noted that going through the so-called 'filtration' process, the occupiers separate family members. Russian troops kept men, women, and children separate, conducting personal interrogations where Ukrainian citizens were asked questions, and their answers were compared then.
BrainHub is the country's main discussion platform created by the Media Center Ukraine – Ukrinform. It brings together experts from the state and civil society sectors. BrainHub hosts intellectual discussions around the issues of the post-war reconstruction of Ukraine. It's the birthplace of the best ideas that will become the foundation for the road map of Ukraine's reconstruction in all sectors: economy, infrastructure, education, agriculture, security, digital, etc.
Read more: https://mediacenter.org.ua/news