Back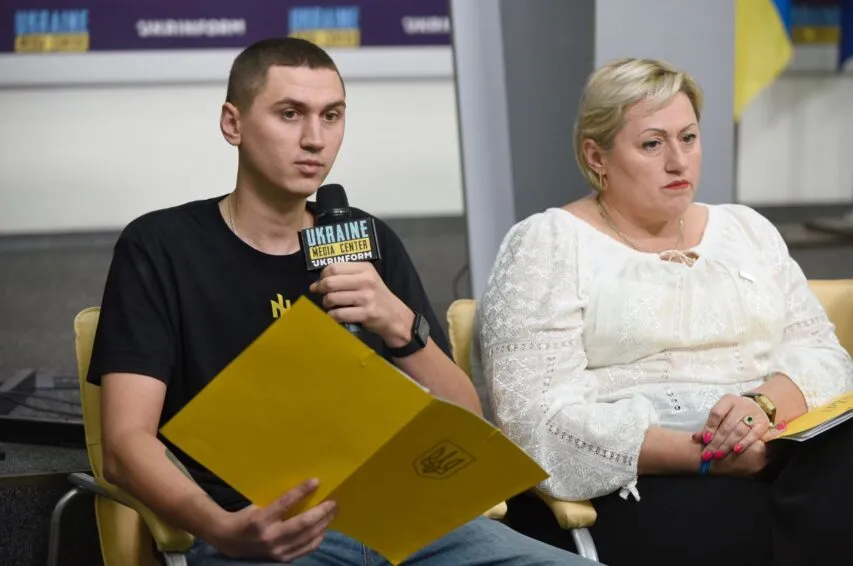 July 28, 2023, 17:16
It was a living hell. A hell of a night, – Azovstal Defender tells about the events in Olenivka during the terrorist attack
Azov Brigade fighter Mykyta Shastun, call sign "Sailor," held the defense of Mariupol from February 24 to May 17, 2022. He surrendered to captivity, where he was held for over 8 months, following the command's order to save his life. At first, he was kept in Colony 120 in Olenivka, and in September, he was transferred to Taganrog.
During a briefing at the Media Center Ukraine – Ukrinform on the anniversary of the tragedy in the Olenivka colony, he spoke about what happened to him and other soldiers during the terrorist attack.
He recalls that after two months in Olenivka, the guards brought lists of POWs' names to be moved to another place. Having no clue for what purpose, everyone hoped for an exchange.
"However, our hopes were dashed with us moving to an industrial area, or rather, to a metalworking workshop. There were densely packed 200 beds with very narrow aisles between them. We began to suspect something was wrong, because the shop was fenced with barbed wire. In two days, toilets and showers were quickly installed. And they started digging a trench around the workshop. We realized that we were here for a reason, and the Russians were up to no good," the defender says.
And so it was. The first night in the industrial zone was calm, but on the second night, at 11:20 PM, explosions began.
"It just so happened that night. I turned my head to the opposite side of the bed because of a spotlight that blinded my eyes. Thus, I ended up with a metal ladder on my head, which eventually saved my life by becoming a kind of shield.
Around 11:30-11:40 PM, several explosions were heard nearby. And then the attack hit the workshop, which served as a barracks for us. I miraculously survived. I still don't know how I managed to stay alive. I only got off with a contusion, small shrapnel in my legs, and burns. There was a medic next to me, his hands were cut by shrapnel, and he could not provide assistance. Under his supervision, I made some bandages and helped the wounded as much as I could," Mykyta Shastun recalls.
According to him, doctors from the Mariupol hospital came to them an hour after the explosion.
"It was hell. A hell of a night. The wounded guys were just piled on top of each other in Kamaz trucks, and they finished 'boarding' at 8 o'clock in the morning. It was clear that many of them would not be taken to the hospital alive," the fighter says.
He said that after the seriously wounded were taken away, the rest were transferred to a detention center, where they were held for a month. According to him, there was a 6 by 6-meter room accommodating 37 people. Instead of beds, there were wooden pallets without mattresses, and at night rats and cockroaches ran around the captured soldiers.
"There was extreme heat and a lack of water, and there was a catastrophic shortage. During this month, we were allowed to take a shower only twice. The first time was after the explosion to wash off the glass wool, and the second time was 15-20 days afterward. Later, we were returned to our barracks to our sworn brothers. We were delighted to see some familiar faces, at least."
At the end of September 2022, Mykyta Shestun was transferred to Taganrog, where he was held until December 31, when he was exchanged.
Sharing the story of his experiences, he appealed: "Please listen to everyone! The guys who heroically and selflessly defended their homeland and their people must be released soon. Otherwise, no one will ever have faith in the justice and unity we hear about every day."
Read more: https://mediacenter.org.ua/news