Back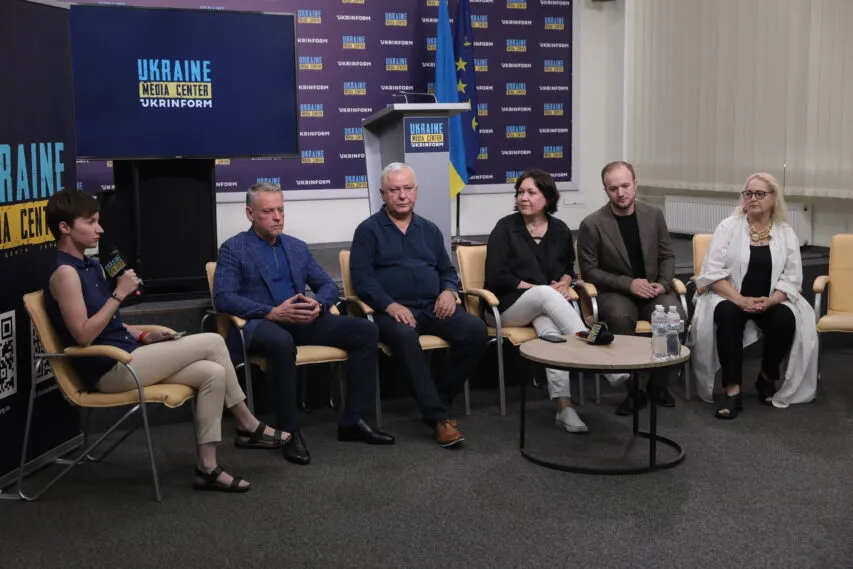 June 20, 2023, 13:31
"It is important to give modern sound to Ukrainian works," – Oleksandr Tkachenko on premiere of new version of "A Zaporozhian beyond the Danube" opera in Kyiv
On June 21, the October Palace in Kyiv will host the premiere of the opera "A Zaporozhian beyond the Danube" by Semen Hulak-Artemovsky.
This production by the Lviv National Opera is directed by Oksana Taranenko and features Oleksandr and Dmytro Saratsky's musical direction, Tadei Ryndzak's set design, Lyudmila Nagornaya's colorful costumes, and Oleksii Busko's modern choreography under the direction of the well-known interpreter of Ukrainian music Iryna Stasyshyn, as well as libretto by Mykola Brovchenko and Oksana Taranenko.
During the discussion of the new version of the opera at Media Center Ukraine – Ukrinform, Oleksandr Tkachenko, Minister of Culture and Information Policy of Ukraine, pointed out the importance of rethinking Ukrainian classics and moving away from the post-soviet mindset.
"The reinterpretation of such a classic as "A Zaporozhian beyond the Danube," the transition from the traditional post-soviet mindset, 'wringing of hands' and things like that to the modern understanding of the classic is extremely relevant. I am sure that many of you will want to attend the premiere tomorrow and see how important it is to give a modern sound to Ukrainian works. As well as set works of modern Ukrainian composers to stage, whose premieres took place during the months of the war," the minister noted.
In her turn, Oksana Taranenko, Stage Director and a Co-Author of the new libretto of the opera, noted that they worked with the understanding that everything that had been created in Ukraine during the last two hundred years had been created in the imperial context, and it is unacceptable to continue viewing ourselves in this way.
"That's why the main character was changed, his actions are now presented from a different point of view. Based on this, we reworked and recreated this work in terms of genre and structure. We came to the conclusion that he should be an educated, capable and strong-willed person. We decided to give Ivan Karas, the main character, the features we would like to see in Ukrainians now," Oksana Taranenko explained.
According to Vasyl Vovkun, Director General – Artistic Director of Lviv National Opera and manager of the project, the new version of "A Zaporozhian beyond the Danube" successfully transforms the stereotypical myth into a modern heroic image.
"And in the end, to cross out the prior understanding, not only, for example, in "A Zaporozhian beyond the Danube," but also in the fact that even a small heritage of classics should be treated with respect and intellect today. That is, not to repeat the mistakes that were imposed on us by another government, another ideology, where we looked inferior everywhere, secondary, non-intellectual," emphasized Vasyl Vovkun.
In addition, Vasyl Vovkun noted that for the sixth year in a row the Lviv Opera has been working on the creative program "Ukrainian Breakthrough." One of the pillars of this program is that Ukrainian classics must be updated, he said.
Read more: https://mediacenter.org.ua/news