Back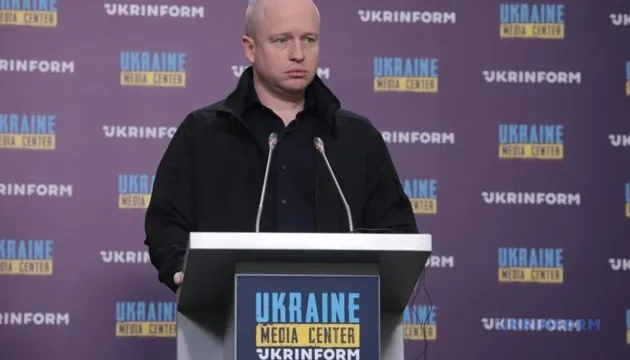 May 6, 2022, 16:45
In wartime Ukrainian ports work only at 20% capacity
International sea-borne trade is virtually suspended in Ukraine, and the work is mainly focused on increasing export processing capacities and estimation of infrastructure damages
Yuriy Vaskov, Deputy Infrastructure Minister of Ukraine said at a briefing at Media Center Ukraine — Ukrinform.
«In time of peace, over 75% of the country's foreign trade was carried by sea. Ports are either closed or blocked by military aggression now. Over 90% of overall trade passed through these ports,» — Yuriy Vaskov noted
The Deputy Infrastructure Minister reported on the situation in the ports. Mainly, seaports of Pivdennyi, Mykolaiv, Olvia, Odesa, Chornomorsk, Bilhorod-Dnistrovskyi are closed for entry and departure. They work only with the fleet that was in maintenance as of February 24.
In comparison to the time of peace, ports operate at 20% capacity; the only work that is being done is to let railway and motor transport inside the country.
Ports of the Danube (Ust-Dunaisk, Izmail, Reni) are open and work as normal, however, they can process only up to 10% of import-export trade that was carried out by all the trade seaports in the country.
Yuriy Vaskov also shared the results of work on increasing processing capacity of Danube ports. In April, the processing capacity increased fourfold as opposed to February. A total of 850,000 tons of cargo was processed for export-import including 450 tons of agricultural cargo. When compared to time of peace, this is about 15% of the trade.
The Deputy Minister added that Ukraine would be able to export and import up to 35% of cargo waiting to be shipped out of and into the country by utilizing its western borders, where rail and motor transport is used for import and export.
The Dnipro River cannot be used, as the Kakhovka floodgate is captured. Therefore, the exit from the Dnipro to the Black Sea is unavailable now.
The Deputy Infrastructure Minister said that in terms of infrastructure the seaport of Mariupol had sustained the most damage. There is also some damage to the ports of Berdyansk, Olvia, Chornomorsk and Mykolaiv. The damage of ports that aren't under Ukraine's control cannot be estimated exactly at this point, but we understand that the costs already amount to dozens of millions of hryvnias. The exact estimate will be provided once the access to the infrastructure is regained.
Read more: https://mediacenter.org.ua/news