Back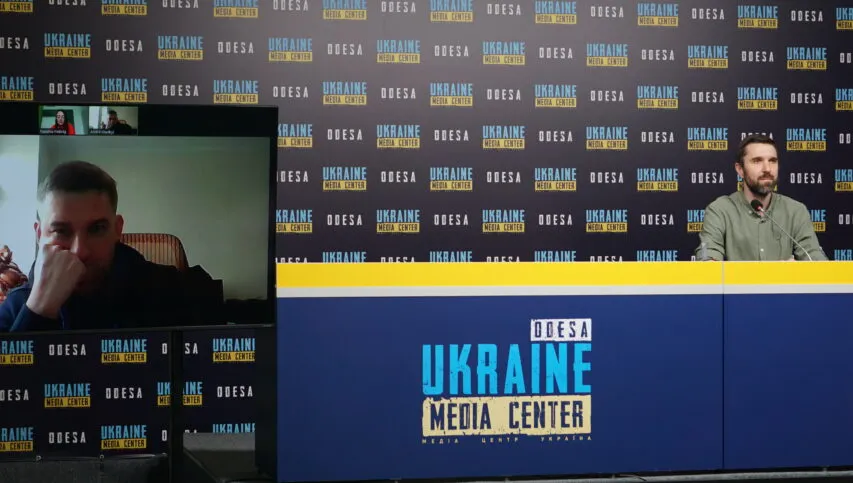 Photo by Media Center Ukraine – Odesa: Oleksandr Prokhorov, regional manager of "Ukraine to power" project in Southern Ukraine; Andrii Gladkyi, coordinator of "Ukraine to power" project
April 18, 2023, 15:25
In the South of Ukraine, the "Ukraine to power" charity project was launched: free battery connection
First of all, hospitals and kindergartens can count on help. Oleksandr Prokhorov, regional manager of "Ukraine to power" project in Southern Ukraine, told about this at a briefing at Media Center Ukraine — Odesa.
"We have a difficult autumn and winter ahead of us. Thermal power plants and transformers were destroyed in Ukraine. The Zaporizhzhia NPP is still occupied. Therefore, we are now looking for those who need it. This is the main selection criterion. It is worth noting that this is not a replacement for the central power supply, these systems are designed to meet the needs of critical infrastructure — operating rooms, intensive care units," —  Oleksandr Prokhorov said.
Andrii Gladkyi, coordinator of "Ukraine to power" project, said that the first such systems were installed in the Khmelnytskyi region — in the hospital of the city of Netishyn and in kindergartens.
"It's a portable mobile system in the form of a cart, it has a 3 kWh converter installed, and with the addition of batteries, it can be converted to 3-7 kWh. The system has proven itself well. During shutdowns, hospitals connected laboratories, ventilators, etc. Systems have been installed in kindergartens to provide power for heating boilers that cannot operate without electricity," — Gladky added.
He also noted that these mobile hospitals are not transferred to the ownership of one or another institution, and if the need to use such systems passes, the equipment can be transferred to more needy ones.
"You can already contact me via messenger at the number 0634283110. Next, you need to fill out the application form, then it will be considered, and depending on the priority, we will complete the application as soon as possible. It is very important for us to have contact with professional people – chief doctors, directors of schools or kindergartens, chief energy engineers," —  Oleksandr Prokhorov said.
Natalia Fibrig, a representative of the non-profit organization We Aid, Berlin, a partner of the project, noted that such systems can then be used not only in hospitals and educational institutions, but also, for example, on construction sites.
Read more: https://mediacenter.org.ua/news