Back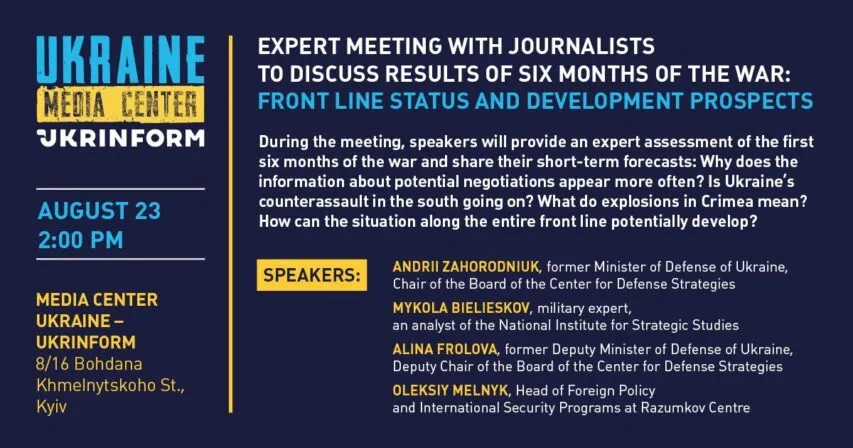 23.08.2022, 14:00
Important Notice! Expert meeting with journalists to discuss results of six months of the war: Front line status and development prospects
Time: 2:00 PM
Date: 23d of August
Registration: https://forms.gle/EKr2wDn65aqT5Dng8
During the meeting, speakers will provide an expert assessment of the first six months of the war and share their short-term forecasts:
– Why does the information about potential negotiations appear more often?
– Is Ukraine's counterassault in the south going on?
– What do explosions in Crimea mean?
– How can the situation along the entire front line potentially develop?
Speakers:
– Andrii Zahorodniuk, former Minister of Defense of Ukraine, Chair of the Board of the Center for Defense Strategies;
– Mykola Bielieskov, military expert, an analyst of the National Institute for Strategic Studies;
– Alina Frolova, former Deputy Minister of Defense of Ukraine, Deputy Chair of the Board of the Center for Defense Strategies;
– Oleksiy Melnyk, Head of Foreign Policy and International Security Programs at Razumkov Centre (in person)
Read more: https://mediacenter.org.ua/news