Back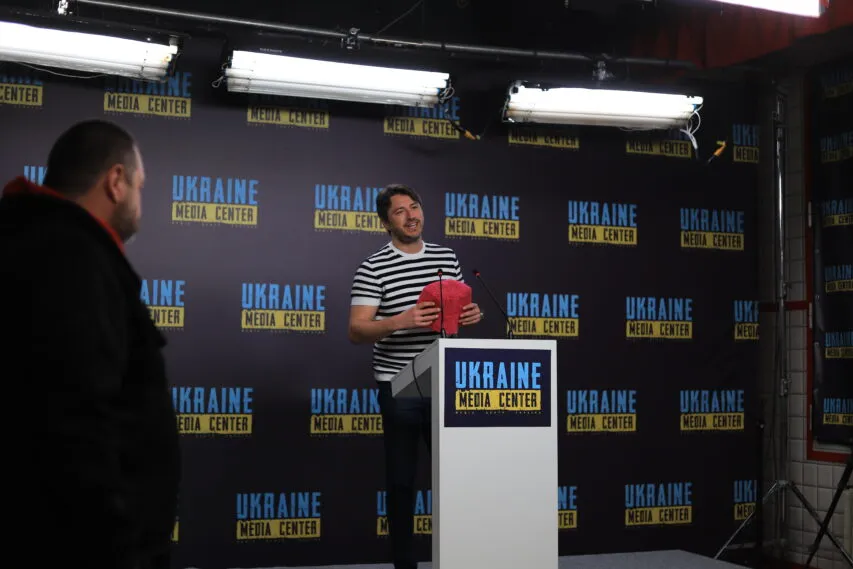 May 27, 2022, 11:41
"I dream to raise 1 mln dollars for Kalush Orchestra pink bucket hat and Eurovision prize," — Serhiy Prytula
Serhiy Prytula plans to raise 1 million dollars for the sale of the pink bucket hat belonging to Kalush Orchestra leader Oleg Psyuk and the Eurovision prize. The winner of this year's song contest donated both items to the Serhiy Prytula Foundation. The volunteer and founder of the Charitable Foundation told about it in Media Center Ukraine. According to Prytula, at first Oleh Psyuk promised to donate only the statuette from this year's Eurovision to charity if the band won the competition. However, the volunteer decided that the famous accessory of the leader of the band will be of no less interest to people.
"I think the bucket hat of Kalush Orchestra singer could start his own Instagram page, gain a million followers and live on its own. And I offered the guys from Kalush Orchestra to hold such a big (money raising) event, I'm very happy that they supported it," — Serhiy Prytula said.
According to him, many potential buyers are interested in the authenticity of the pink bucket hat, which was put up for auction. The volunteer can assure everyone that this is exactly the accessory that millions of viewers saw on the stage of Eurovision.
"Yes, friends, this is the same bucket hat, it has the sweat and tears of Oleg Psyuk. It is important for us that a genuine lot is auctioned off. We had a new bucket hat made for Oleg. He hasn't left without a hat on his head. Do not worry, he has had his meal and is wearing a hat," — Prytula said.
For a chance to win the bucket hat, one needs to make a donation of UAH 200. The number of entries from one person is unlimited. Later, there will be a draw among those who made such a contribution. As for the Eurovision glass microphone, it will be awarded to the philanthropist who made the largest donation.
"We gave the opportunity to compete for this prize to traditional money and cryptocurrency. And it is very symbolic that the cryptocurrency is winning so far. The last "crypto" bet is over 19,000 dollars. We don't know what the final sum will be yet. But if it is as much as I dream of — somewhere closer to a million dollars — we will buy powerful UAVs for the Armed Forces of Ukraine," —Serhiy Prytula said.
In addition, Prytula noted that the Eurovision prize has been put up for sale for the first time in the history of the contest.
As reported, on May 14, Kalush Orchestra won this year's Eurovision Song Contest in Turin, Italy with their song "Stefania." Therefore, Eurovision 2023 is to take place in Ukraine.
Read more: https://mediacenter.org.ua/news