Back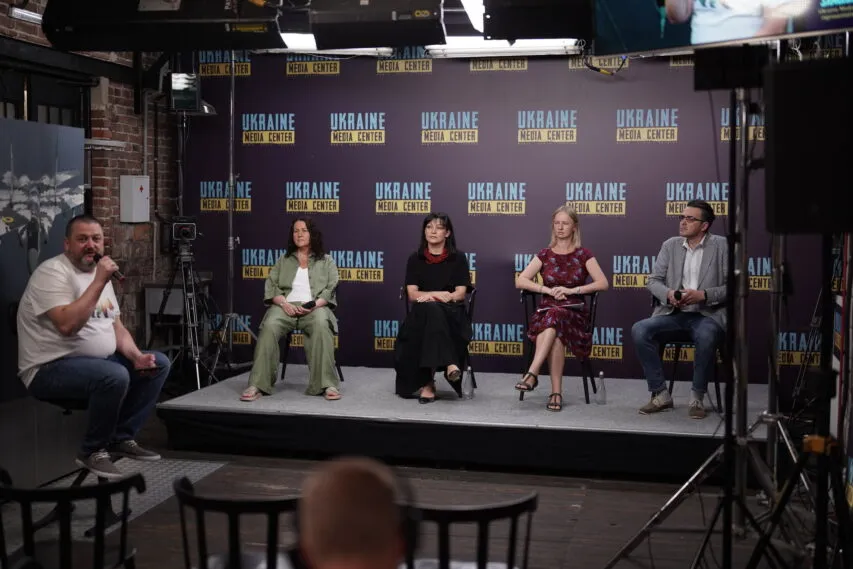 July 7, 2022, 16:02
Highlights of the Discussion on Mental Health and Psychological Transformation of the Ukrainian Society and Each Ukrainian at Media Center Ukraine
A discussion on Mental Health and Psychological Transformation of the Ukrainian Society and Each Ukrainian took place in Media Center Ukraine on July 7. The participants discussed various questions, such as how the mental condition of each Ukrainian changed after the start of the full-scale russian assault, how mental health could be maintained during the war, and what kind of psychological assistance Ukrainians needed.
You can find the highlights of the discussion below:
Orest Suvalo, Coordinator of Community-based Mental Health Services Development at the Ukrainian-Swiss Mental Health for Ukraine Project, spoke about the threats to the Ukrainians' mental health:
"According to the WHO definition, mental health is a state of mental well-being that enables people to cope with the stresses of life, realize their abilities, learn well and work well, and contribute to their community. All these four components of mental health are threatened by our current situation of information reports, losses, and pain of the war. Thus, I would sum it up to start with that mental health is being threatened now; it is under great pressure and great load. This situation requires everyone to develop skills and the ability to manage situations to sustain, survive, and be resilient.
Vilena Kit, Psychoanalyst, Coordinator of Lviv Crisis Psychological Service, spoke about the Ukrainians' response to the start of the all-out war:
"There was the response reaction during the first 3 to 4 weeks. We reacted to the invasion. Every citizen, every resident of Ukraine was shocked. The reflection stage came later for 2 to 2.5 months while we thought about what to do next. The reconstruction process is ongoing. We all sustained a loss, the loss of the perception of being secure. Everyone had plans for the whole life, for the forthcoming summer, for business. These were development plans. However, we had to adjust them because we needed to survive. Plan for new routes, and understand what to do.
Natalia Zaitseva-Chipak, Sociologist, Director of Socioinform Research Center, spoke about the Ukrainians' adaptation to stress.
"It was very interesting to track various opinion surveys indicating that a psychological adaptation is ongoing. For example, there is an excellent survey by the Rating Sociology Group, with measurements made in April and, say, in June. They compared their notes and saw that the people gradually leveled off their psychoemotional state. Of course, there are problems, with many people complaining about fatigue and exhaustion or poor sleep. However, people are gradually taking the stress load under control: On a scale from 1 to 5, the stress evaluation score came to 3.5 in April (it is rather high), but today it is almost 2.9 (much closer to the medium level)."
Halyna Netliukh, Executive Director of the Ukrainian Catholic University's Mental Health Institute and representative of the Ukrainian Institute of Cognitive Behavioral Therapy, said how the Ukrainians could morally persevere during the war.
"Speaking of what the Ukrainians need to prepare for, we must prepare for a marathon. In a marathon, it is important to distribute your effort so that you can reach the finish line. It is up to us as a society to keep creating life and developing our resilience. Resilience is the ability to sustain stress. The consequences of the war for Ukraine are, on the one hand, trauma and, on the other hand, growth. Those who had managed their stress well enjoyed post-traumatic growth later. The odds are that we come out of this war better, stronger, and more resilient to recover from being broken."
Read more: https://mediacenter.org.ua/news