Back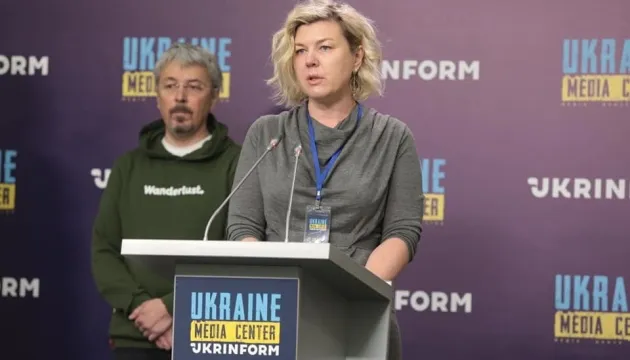 April 30, 2022, 14:11
Group tours for journalists to «more or less safe regions of Ukraine» announced at «Ukraine» Media Center
Representative of «Ukraine» Media Center Alina Frolova said during a briefing at «Ukraine» Media Center (Kyiv) that «Ukraine» Media Center was ready to work with journalists' inquiries concerning tours to towns where hostilities took place or which were occupied by the russian military. However, it is currently impossible to organize such media tours to eastern Ukraine due to danger.
«Yes, we have really organized several tours to Bucha, Borodyanka, Irpin. We helped journalists to travel to the location on their own, we organized tours to Chernihiv… We are also ready to work with inquiries from journalists. Unfortunately, we can't organize tours to the eastern part of Ukraine now, because group trips there are just dangerous. However, we can assist with independent visits. Concerning trips to more or less safe areas – yes, such trips will take place,» – Ms. Frolova said.
At the same time, «Ukraine» Media Center representative Andriy Shevchenko told about plans to organize «background events for journalists».
«The Ministry of Culture and Information Policy has expressed its readiness to work together on such events, when we can provide off-the-record background information on the events at the front line, evacuation, and in other areas,» – Mr. Shevchenko said.
As reported earlier, a joint information project of «Ukrinform» news agency and «Ukraine» Media Center has been presented at Ukrinform.
Read more: https://mediacenter.org.ua/news