Back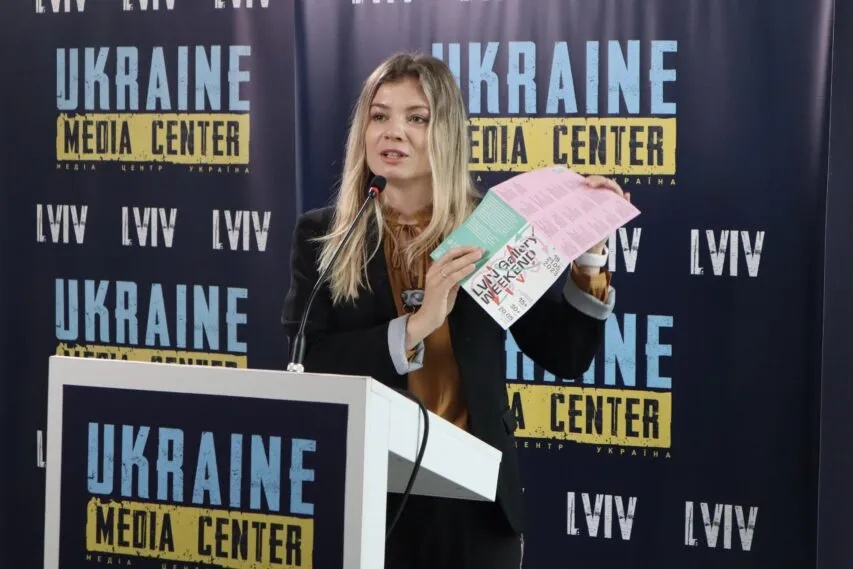 Briefing at the Media Center Ukraine-Lviv
May 18, 2023, 13:40
From May 19 to 21, Lviv Gallery Weekend will be held for the first time
Over the next three days, Lviv residents and visitors will be able to enjoy more than 30 events in 16 art spaces. The planned events include excursions, drawing sessions with models, and communication with artists and gallerists. The highlight of the Gallery Weekend will be the Night of the Galleries. On Saturday, May 20, the art spaces will be open until 10 pm, said Marta Trotsiuk, president of the Ukrainian Gallerists Association, at a briefing at the Media Center Ukraine-Lviv. 
"On Saturday, from 1 to 3 pm., there will be a drawing session. Nudes, three halls and three models. And this event is for everyone. Even someone who doesn't know how to draw can come and try to distract from the stress. At Gallery Night, I'll play music from my record library on vinyl. And at 9 pm., I will hold a small semi-joking art auction for only half an hour," said Pavlo Hudimov about the events at the Ya Gallery Art Center.
Most of the events of Lviv Gallery Weekend will be for free. The organizers have created a special map. And you can find it in all art spaces in Lviv.
📍Media Center is located at 20 Ruska Street and functions as a co-working space from 10:00 AM to 6:00 PM.
Contact phone:
+38 067 652 91 97
Read more: https://mediacenter.org.ua/news