Back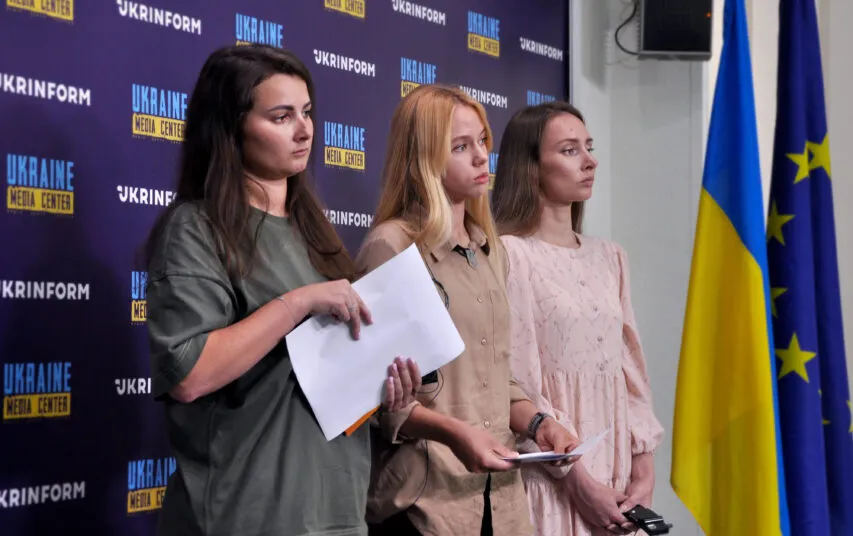 July 4, 2022, 17:17
Families of Azovstal defenders call on media, society and international community to continue their support until every captive comes home
Today, on July 4, a briefing of Azovstal Defenders' Families Association was held at Media Center Ukraine — Ukrinform.
Tetiana Kharko, sister of Serhii Volynskyi, commander of the 36th Marine Brigade said that the Association started its work a month ago.
"The association has done a lot of work and we were present at the exchange of prisoners of war. Everyone who returned was seriously injured. But each of them has aт unfailing, unconquered heart, which currently needs love and serious medical care. All the boys are very thin, they are being treated in hospitals. For now, we refrain from commenting on the conditions of captivity, so as not to put those defenders who remained in the hands of the enemy in jeopardy," — she said.
The soldier's sister called on journalists and the public to refrain from putting pressure on the released POWs, because they need a long recovery, including psychological rehabilitation.
"We hope that the President and the coordination headquarters will make every effort to get everyone back home. We all have to do our best for our relatives to return home," — Tetiana Kharko noted.
Maryna Kravtsova, wife of the commander of Vedmedi (Bears) Squad, reported that the last time she had spoken with her husband had been before his leaving Azovstal, and now the information is coming in that her husband's unit would be sentenced to death.
"In the photos I saw later, it was difficult for me to recognize him, because he had lost a lot of weight. And it is hard to imagine what they are going through now. The enemy is now speaking through the mouths of our boys. There is information from enemy sources that Vedmedi Squad is separated from all other prisoners. There is information that this particular unit will be sentenced to death by the so-called Donetsk People's Republic. I don't understand how, in the 21st century, a republic not recognized by anyone can judge people who defended their land. We call on the international community to influence the aggressor," — she said.
In addition, the families of the prisoners demand that the Red Cross be allowed to see our defenders. They also demand that the norms of international law be implemented, so that everyone can learn the fate of their relatives.
Kateryna Prokopenko, wife of Denys Prokopenko, commander of Azov Regiment, pointed out that this war is a war of two worlds, not countries.
"We agree to abide by all agreements. For example, the Geneva Convention, which protects the rights of prisoners of war. And Ukraine adheres to this (Convention) in matters of the captured and dead russians. People say the Red Cross is a quiet diplomacy. Unfortunately, I haven't heard my husband's voice for a month and a half, I don't know what's wrong with him or where he is. The enemy does not follow any rules, they are cynical. I am afraid that if we all remain silent and rely only on quiet diplomacy, we will lose. We have to win this battle for Azovstal defenders. When they left the plant in Mariupol, they were promised that all the rules of the Geneva Convention would be observed. We ask all international organizations to finally start working and not be afraid of the aggressor," — the woman urged.
Kateryna Prokopenko said that active media campaigns are currently underway to support captured fighters and speed up their return home. Recently, a fund was launched, which aims to support the families of fallen and captured soldiers.
As reported, Ukraine has returned 144 soldiers, including 95 Azovstal defenders as part of the largest exchange of prisoners since February 24.
Read more: https://mediacenter.org.ua/news