Back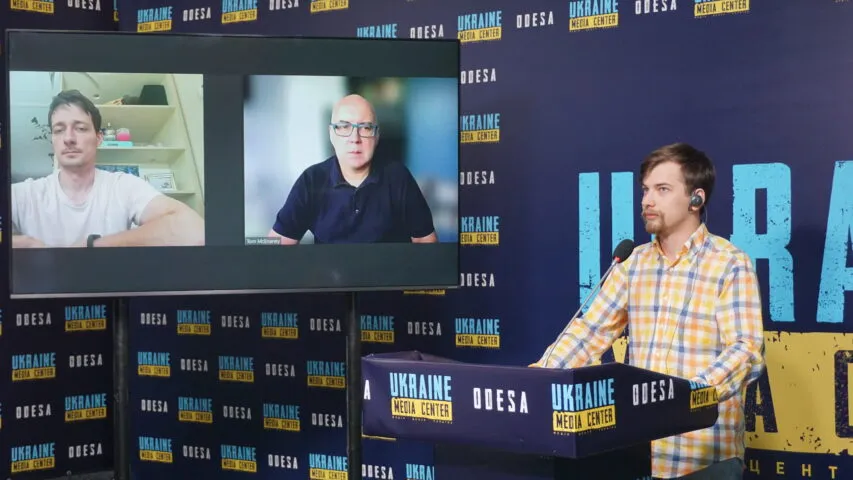 Photo by Media Center Ukraine – Odesa: Anatoliy Prymakov, co-founder and Director of NGO Ukrainian Action in Ireland; Tom McEnaney, founder of Effective Aid Ukraine charity organization
September 14, 2023, 15:47
Every week, 500 Ukrainians flee to Ireland to escape the war – NGO Ukrainian Action Ireland
However, not all of them stay in the country. This was stated by Anatoliy Prymakov, co-founder and director of the NGO Ukrainian Action in Ireland, at a briefing at the Media Center Ukraine – Odesa.
"Every week 500 Ukrainians come to Ireland. But not all of them stay in the country. Some then move to the United States or Canada. And now, according to official information, there are 75-77 thousand Ukrainians in Ireland. Before the full-scale invasion, there were 3,000 Ukrainians in the country. Because of this increase in Ukrainians, it was necessary to create our organization to represent our interests," – Anatoliy Prymakov, co-founder and director of NGO Ukrainian Action Ireland said.
He noted that most people have already found a school for their children and are learning English, as well as found friends and associates among the Irish. However, it is too early to talk about full integration into the local society.
Tom McEnaney, founder of Effective Aid Ukraine charity organization, noted that Ukrainian children are integrating into local society very quickly.
"The Irish are very open to Ukrainians, they welcome Ukrainians. Although Ireland is currently experiencing a certain housing crisis, we are always happy to welcome and host Ukrainians in our homes. Ukrainians are not hungry, they are safe and warm…. But there are problems with work, although we have many vacancies. However, the language barrier and the fact that there is no one to leave children with hinders us," – Tom McEnaney said.
He added that his organization has helped 1,200 Ukrainians settle in Ireland. Now, the volunteers will focus on improving the living conditions of children with special needs, children who have left their homes, and socially vulnerable people living in the frontline area.
Read more: https://mediacenter.org.ua/news