Back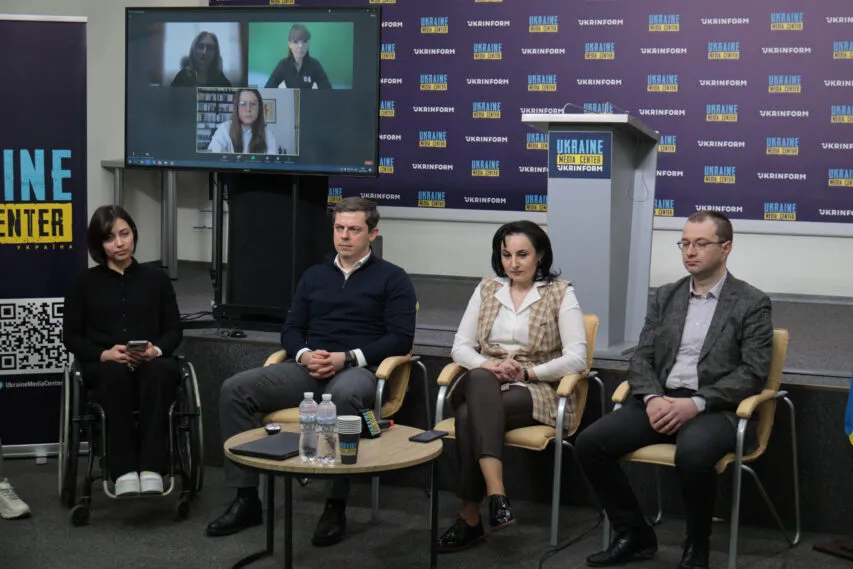 A roundtable on "Employment for persons with disabilities: European perspectives in Ukraine" was held at Media Center Ukraine — Ukrinform
May 1, 2023, 13:46
Draft law with necessary innovations for employment of people with disabilities already developed — Oksana Zholnovych
A roundtable on "Employment for persons with disabilities: European perspectives in Ukraine" was held at Media Center Ukraine — Ukrinform.
During the event, representatives of specialized committees of the Verkhovna Rada of Ukraine, ministries, and NGOs discussed the key problems of current legislation in the field of employment of people with disabilities. Experts shared European experience in solving the problem.
During the discussion, Oksana Zholnovych, Minister of the Social Policy of Ukraine, pointed out that some work has already been done on innovations in the employment of people with disabilities. In particular, she talked about the registered draft law 5344-d.
"Changes in the legislation have already been developed, this draft law, 5344-d, has been discussed for a long time. All the innovations we are talking about today are reflected in it. This includes targeted stimulus payments, moving away from punishment, this is the extension of this quota to all enterprises," she said.
Oksana Zholnovych noted that the draft law also stipulates that the state is to be responsible for employment of the lion's share of people with disabilities.
"Actually, in our country, only private businesses must fulfill the quota and pay fines. These requirements do not apply to state institutions, which is incorrect. And in the draft law, we extend this to everyone and say that the state should take up a priority share in fulfilling the duty to support people with disabilities. This includes an increase of support for employment itself, this includes social services, this includes the expansion of types of social enterprises," she added.
Oksana Zholnovych noted that today it is very important that the society at large should turn to such an initiative and inform the people's deputies that the draft law should be supported and prioritized.
"There are a lot of reservations and fears from existing enterprises, from existing structures that are afraid of changes. But we want to convey that changes are sometimes beneficial, even if they are sometimes difficult to understand. However, this law does not introduce anything that could limit or narrow the range of rights of people with disabilities. We will also keep the existing practices, which work today, for two years. And we are introducing new ones to show that they will be more effective."
Read more: https://mediacenter.org.ua/news