Back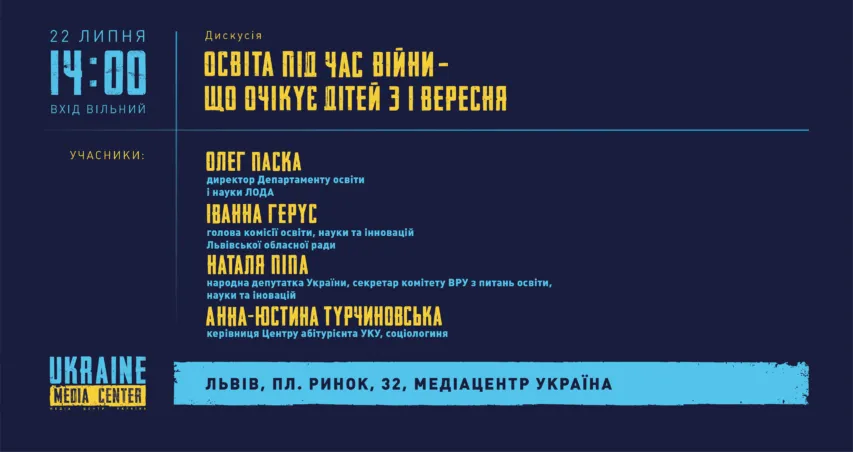 July 21, 2022, 15:25
Discussion "Education during the War – What Children Can Expect from September 1"
On July 22, an Education during the War – What Children Can Expect from September 1 discussion will take place in Media Center Ukraine.
Participants:
Oleh Paska, Director of the Education and Science Department of Lviv Oblast Military Administration
Ivanna Herus, Head of the Education, Science, and Innovations Commission of Lviv Oblast Council
Natalia Pipa, Member of Verkhovna Rada of Ukraine, Secretary of Verkhovna Rada's Education, Science, and Innovations Committee
Anna-Yustyna Turchynovska, Head of the School Graduates Center of the Ukrainian Catholic University, Sociologist
Issues to be discussed:
Specific features of learning after September 1
The education process in schools and universities: online or offline, who will decide
Recommendations of the Ministry of Education and Science, material security of the education process
Safety issues, bomb shelters, safety briefing for teachers and children
Specific features of the enrolment campaign for IDPs, Multi-Subject Test
The discussion will take place in the office of Media Center Ukraine at 32 Rynok Sq. on Friday, July 22
The event will start at 2:00 PM
The event is expected to take about 1 hour
Free admission
Visitors are requested to come 10 to 15 minutes before the event starts.
Read more: https://mediacenter.org.ua/news