Back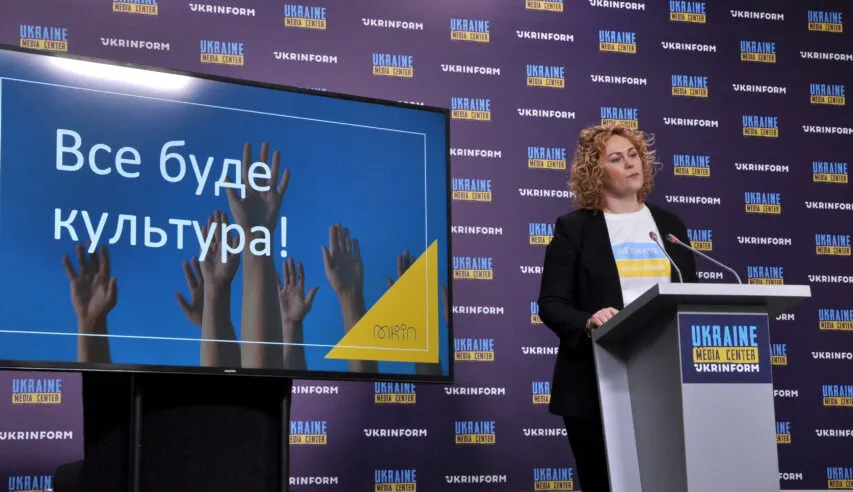 Анастасія Бондар, Медіацентр Україна-Укрінформ, 15 червня
June 15, 2022, 12:29
Culture Ministry launches over 20 cultural projects to combat russia on information front
This statement was made by Anastasiia Bondar Deputy Minister of Culture and Information Policy during a briefing at Media Center Ukraine — Ukrinform.
"We are currently working on a digital transformation. By digital transformation of culture we mean several areas: the digital transformation itself — reengineering of services; digitization of cultural objects; and digital online projects," — the Deputy Minister said.
Reengineering includes a transfer of paperwork into digital space. The second aspect of the digital transformation means that all cultural monuments and exhibits will be digitized, and the third area means that digitized products can be tracked on separate websites.
"All our and partner projects were placed on "United Platform of Culture and Media during the War." Currently there are more than 20 projects. One of the most important is crimes against cultural heritage. We collect information about the destruction caused by russia on this resource," — Anastasiia Bondar noted.
The platform contains projects such as "War Poetry," which collects works by the Ukrainians created during or dedicated to the war.
The Ministry of Culture encouraged people with a poetic flair to share their works: "Currently, we have more than 20,000 poems on the portal. We really want to keep them for our descendants."
Another project "My War" helps the Ukrainians share their stories from the beginning of the war and the full-scale invasion. The portal already has more than 5 million views, the resource is especially popular among foreigners. These stories are available in over 70 foreign languages.
Read more: https://mediacenter.org.ua/news