Back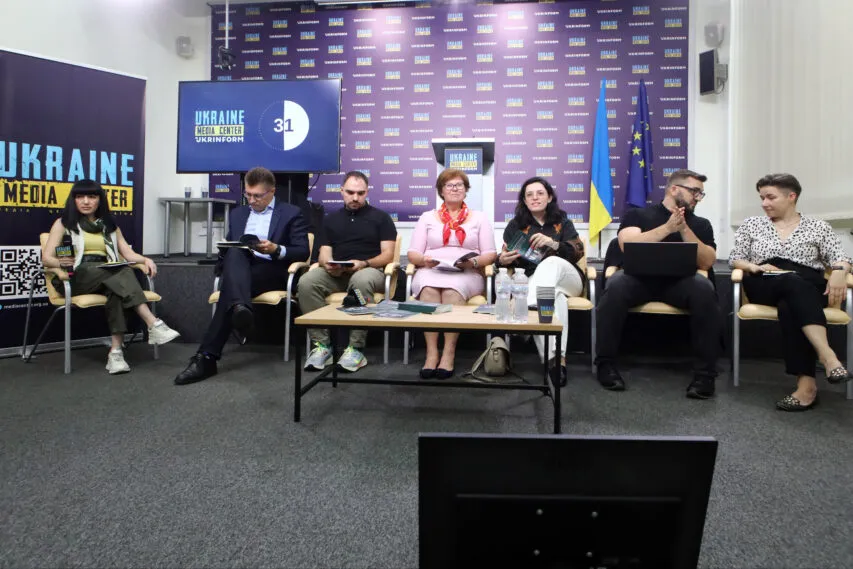 July 24, 2023, 13:29
Covering issues of gender equality, preventing violence and manifestations of sexism –Guidelines for media presented in Kyiv
Media Center of Ukraine – Ukrinform hosted a presentation of the Guidelines for Media Coverage of Gender Equality, Prevention of Violence, Manifestations of Sexism and Gender Stereotypes. The main goal of these recommendations is to raise awareness about the principles of gender equality and ensure that the media use uniform approaches and tools to form zero tolerance to violence, in particular gender-based violence.
During the event, Taras Shevchenko, Deputy Minister of Culture and Information Policy of Ukraine for European Integration, pointed out the nuances of the gender equality topic in the media. According to him, in addition to the issue of media coverage itself, there is also the issue of representation on TV. In particular, he noted that the number of female commentators and experts on television should increase.
"Therefore, it is an equally important issue that both women and men are represented as equally as possible in the (news – Ed.) stories, on TV, among those who provide expert commentary, since this is also an issue of gender equality," he explained.
In addition, Kateryna Levchenko, Government Commissioner for Gender Policy noted that today there are many myths, speculations, manipulations and misinformation surrounding gender issues. And these guidelines will help journalists, bloggers, everyone who works in the field of mass communications to use those tools to counteract such manipulations.
"They explain the terms, they explain what should be done, what should not be done, how one can start with stereotypes and prejudices and end up with gender discrimination that harms a person, a group of people or society," she noted.
According to Kateryna Levchenko, these guidelines must also be applied in both exercises and training to sensitize the journalistic community, so that new topics and new issues are covered correctly.
"These issues are relevant, because these issues concern you and me, they concern people, they concern those who work, protect, suffer. All people are different, and therefore for an effective policy aimed at ensuring the needs and interests of our citizens, it is important for us to take into account the characteristics of different groups, including women and men," she emphasized.
In addition, Oleksandr Diachenko, Head of Control and Analytical Department of the National Television and Radio Broadcasting Council of Ukraine, mentioned rather optimistic forecasts and noted that gender balance is not just about the realization of someone's rights or the fulfillment of obligations to the EU. Gender equality, according to him, is primarily about the efficient use of human potential.
"We are considering this issue more broadly – it's not only about the rights of men and women – it's basically about finding and eradicating harmful social stereotypes. The eradication of such stereotypes in practice means that every person living in this country, who has gotten rid of the stereotypes – that they can't do some things as they belong to a certain age, a certain gender, to a certain other socially vulnerable group – they start believing that their rights can be realized, and they go on to realize their potential," he said.
In addition, Oleksandr Diachenko emphasized that the role of the media in eradicating stereotypes and conveying correct constructive opinions cannot be overestimated.
"The way of recommendations and demonstration of the right example has a positive effect on the media and really improves their work for the better – there are fewer stereotypes, feminine nouns are used, editorial charts are changing," he added.
Before the war, according to him, positive dynamics were also observed in this issue. He expressed hope that even in this difficult period it will be possible to maintain the same positive trend with the help of monitoring and the recommendations.
Read more: https://mediacenter.org.ua/news