Back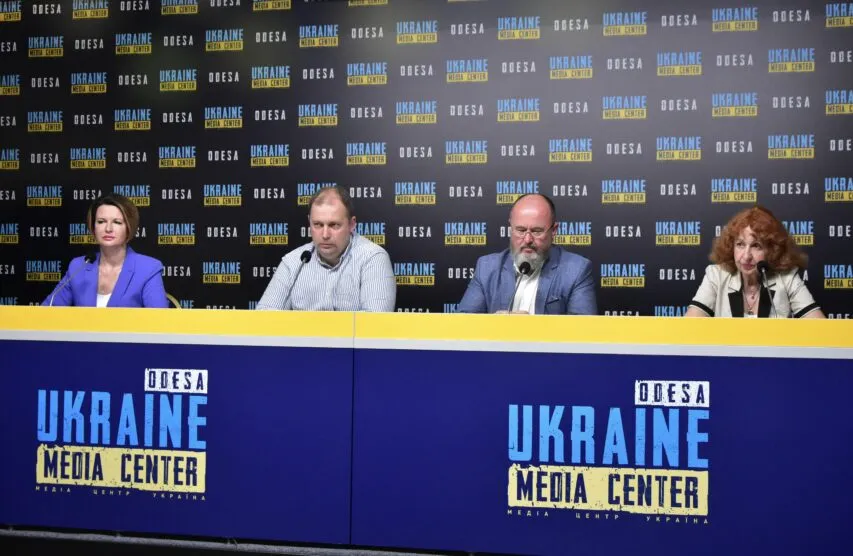 Photo by Media Center Ukraine – Odesa: Anzhela Popadiuk, deputy director of the regional health care department; Serhiy Dementev, deputy general director of Odesa regional center for disease control and prevention; Viktor Goydyk, infectious disease specialist, medical director of the Odesa regional center for socially significant diseases; Svitlana Kozinova, municipal hygiene doctor at the Odesa regional center for disease control and prevention
June 14, 2023, 14:52
Cholera was not detected in Odesa region after dam explosion at Kakhovka hydroelectric power plant
Cholera vibrios were not detected either during the examination of patients with gastrointestinal dysfunction or during the inspection of water and food products. This was stated at a briefing at the Media Center Ukraine – Odesa by Serhiy Dementev, deputy general director of Odesa regional center for disease control and prevention.
He said that over the past week, doctors have examined 172 patients with gastrointestinal dysfunction, and no cholera vibrios have been isolated.
He also added that 100 planned monitoring points for sampling sea, estuarine, wastewater and open water for cholera have been identified, where sampling is carried out weekly. Additionally, six more points along the sea coast have been introduced for daily water sampling from recreational areas for testing for cholera and cholera vibrios, microbiological and sanitary-chemical indicators, and virological indicators.
"Over the past week, 104 samples from the environment were tested for cholera, including 33 samples of sea water, 22 samples of fresh water, 47 samples of wastewater from infectious diseases departments, 1 sample of ballast water, and 1 sample of food. No cholera vibrio was isolated," – Dementev added.
However, out of nine samples of seawater, three samples were tested for virological indicators and found intestinal viruses – rotavirus, astrovirus, and salmonella.
Anzhela Popadiuk, deputy director of the regional health care department, noted that the epidemiological situation is currently under control and predictable, and 12 institutions have been identified in Odesa Oblast that are ready to provide emergency services. They provide assistance, including in the event of the spread of infections. In the event of a deterioration in the situation, all medical facilities are ready to operate.
"Odesa region is ready for cholera. We have outbreaks of infections every year, but doctors have experience and know how to deal with it. Cholera does not require strict quarantine measures; the main means of prevention is clean hands. And I am counting on the consciousness of people who will not even dip their feet in dirty water now," – Viktor Goydyk, infectious disease specialist, medical director of the Odesa regional center for socially significant diseases added.
Read more: https://mediacenter.org.ua/news