Back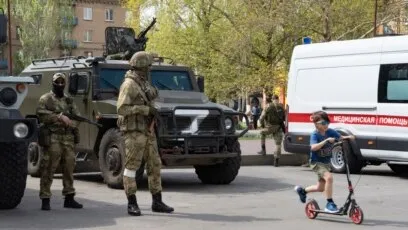 The photo from open sources
November 10, 2022, 14:16
Chechens seize Melitopol city hospital, one occupier shoots a patient in the face — Mayor Ivan Fedorov
Chechens have seized the city hospital of Melitopol and are terrorizing the patients there. Ivan Fedorov, Mayor of Melitopol made this statement at a briefing at Media Center Ukraine — Ukrinform.
"A week and a half ago, the Chechens started coming to our hospital. First, they came to spend the night, and then they started coming for treatment as well. And now there are constant conflicts between civilians and the Chechens in the hospital. Two days ago, a drugged-out Chechen shot a civilian in the face who was being treated there. Fortunately, the victim was saved," — Ivan Fedorov said.
According to the Mayor of Melitopol, other medical facilities in the occupied part of Zaporizhia have been experiencing terror for two months. The occupiers seized all the hospitals around Melitopol and turned them into military hospitals. Therefore, residents of the occupied settlements tried to get to the Melitopol city hospital specifically, as it was the only facility providing healthcare to civilians.
Read more: https://mediacenter.org.ua/news