Back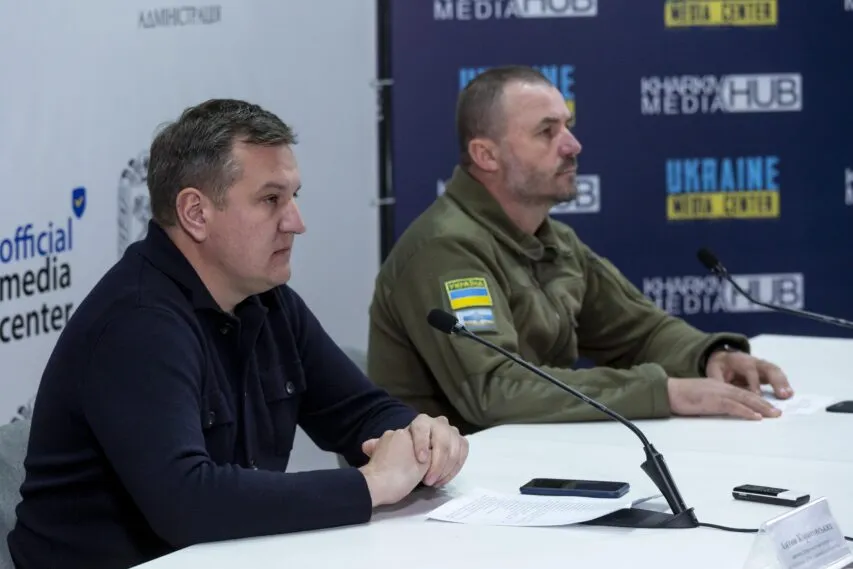 Photo Media Center of Ukraine - Kharkiv: Anton Korotovskyh, Director of the Department of Urban Planning and Architecture of the Kharkiv Regional Military Administration, and Volodymyr Usov, Head of the Kharkiv District Military Administration
October 16, 2023, 14:30
As a result of the russian aggression, about 22,500 facts of damage and destruction of objects were recorded in the territory of the Kharkiv district
On October 13, Kharkiv Media Hub hosted a briefing by Anton Korotovskyh, Director of the Department of Urban Planning and Architecture of the Kharkiv Regional Military Administration, and Volodymyr Usov, Head of the Kharkiv District Military Administration. The speakers spoke about the course of restoration work at the facilities of the Kharkiv district, which were destroyed as a result of the armed aggression of the russian federation.
Thus, according to the chief architect of the region, as of October 2023, as a result of Russian aggression, about 22,500 facts of damage and destruction of objects were recorded on the territory of the Kharkiv region. The most affected are Tsyrkuny, Vilkhivka, and Derhachi communities. Among the destroyed and damaged facilities are more than 13,200 private houses, 3,000 high-rise buildings, 549 educational and sports facilities, 96 administrative facilities, 157 healthcare facilities, more than 3,000 energy facilities, etc.
-But this information is not final, since the number of damaged and destroyed objects increases daily after their inspection, – noted Anton Korotovskyh.
Also, according to the head of the Department of Urban Planning and Architecture of the KhOVA, as part of the implementation of the "E-restoration" program, more than 11.8 applications were received from the residents of the Kharkiv district for financial assistance for the current repair of damaged housing and 136 applications for receiving compensation for destroyed property.
-520 decisions on the provision of compensation were made by the commissions for consideration of issues regarding the provision of compensation for damaged objects of real estate in the territory of the Kharkiv district and handed over for payment, – noted Korotovskyh.
In turn, the head of the Kharkiv District Military Administration, Volodymyr Usov, said that in 2023, with the availability of stable funding, it is planned to implement 46 restoration projects for a total amount of about UAH 921 million with funds from the fund for liquidation of the consequences of armed aggression, local and regional budgets. Construction work has started on 25 projects.
-All construction works are carried out in accordance with the calendar plan. Three residential building restoration projects in Derhachy are at the final stage. Ten more are the restoration of housing in Ruska Lozova and Slatyne, where project documentation is under review by the construction expert.
Also, during the briefing, the official spoke about the projects of restoration of the administration building of Ruska Lozova, Dokuchaivske, medical facilities in a number of villages of the Kharkiv district and the city of Derhachi, an educational institution in Merefa, construction of a civil defense building in the city of Lubotyn.
Read more: https://mediacenter.org.ua/news