Back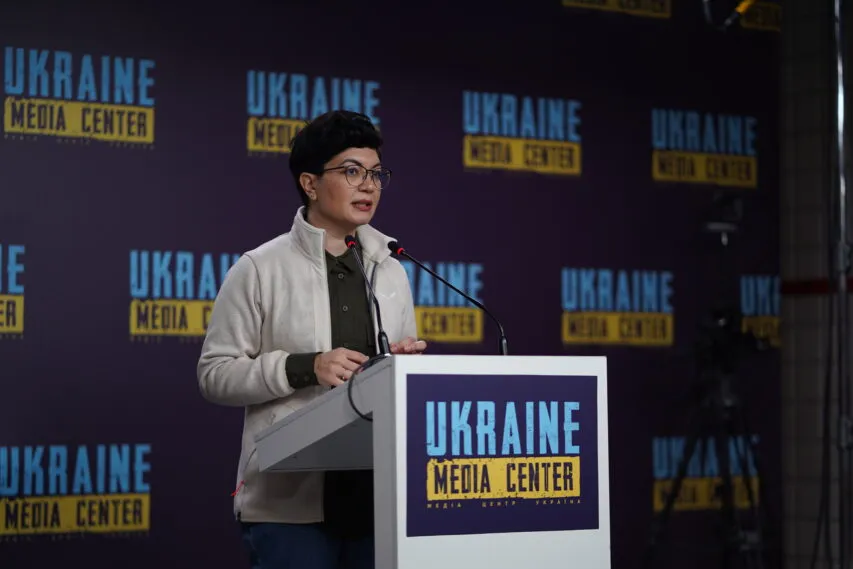 March 29, 2022, 13:59
Anti-russian protests continue in Crimea despite 8 years of temporary occupation – Crimean Tatar human rights activist Tamila Tasheva
Tamila Tasheva, Deputy Representative of the President of Ukraine in the Autonomous Republic of Crimea, Crimean Tatar human rights activist, informed during a briefing at Ukraine Media Center that protests against the russian aggression continued in the temporarily occupied Autonomous Republic of Crimea despite 8 years of repressions.
According to her, the protests take place across the entire peninsula, in particular, in Yalta, Simferopol, Yevpatoria. The protesters are being detained, and they will be required to pay RUB 30,000 (approximately UAH 10,000) to the illegal occupation government.
In addition, there is political persecution of those who protest against russia's aggression or even call the war «a war». For instance, on March 24, the head of the Central Election Commission of the Kurultai of the Crimean Tatar people, member of the Crimean Tatar national movement Zaire Smedlya has been illegally searched and detained in the occupied Crimea. He has been charged with several «administrative offenses» under the occupier-state law, including «nazi symbols» demonstration and «discrediting the armed forces of the russian federation». With respect to the latter, this novelty of the russian legislation appeared after the beginning of russia's full-scale aggression against Ukraine. The human rights activist said it was actively used by occupying forces in Crimea against those residents of the peninsula who publicly call the so-called «special operation» a war.
For more information on the current situation in Crimea, read here 

Follow Ukraine Media Center news at:
Website: mediacenter.org.ua
Telegram: https://t.me/lvivmediacenter
Twitter: https://twitter.com/CenterUkraine
Facebook: https://www.facebook.com/UkraineMediaCenter/
YouTube: https://bit.ly/3whbxSm