Back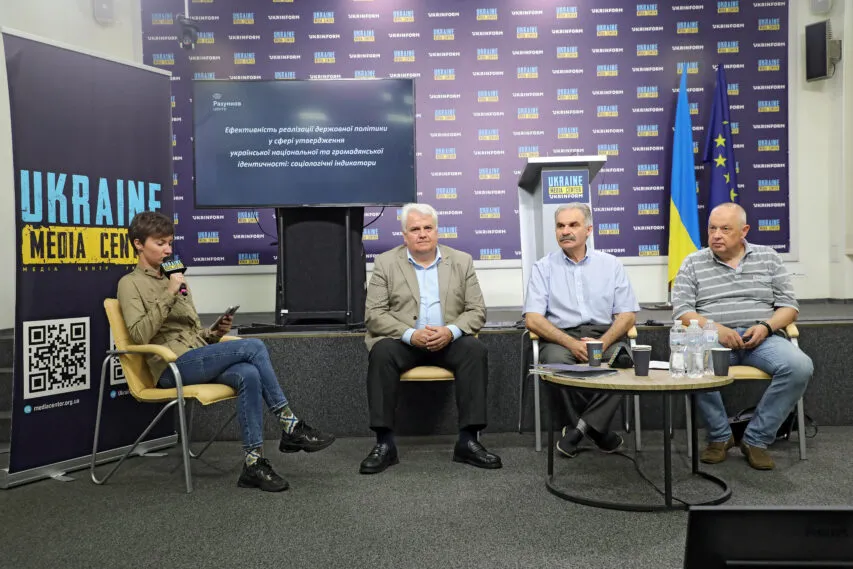 June 29, 2023, 18:23
Almost all citizens say they are fluent in Ukrainian in daily life – sociological survey
69% of citizens, assessing their level of language proficiency, said they are fluent in Ukrainian. 28% describe their language skills as sufficient for everyday communication, but they struggle to speak on particular topics. 2% have a poor understanding of Ukrainian and find it difficult to communicate, and 0.6% do not understand Ukrainian at all.
This is evidenced by the results of a nationwide sociological survey conducted by the Razumkov Center on May 23-31, 2023, which were made public during a briefing at the Media Center Ukraine – Ukrinform.
During the survey results presentation, Mykhailo Mischenko, Deputy Director of the Sociological Service at the Razumkov Centre, also released data on the level of Ukrainian language proficiency in the regions of Ukraine.
According to him, comparing 2006 to 2023, in particular, in the western region, the share of those fluent in Ukrainian has increased from 89% to 95%. In the southern region, the number increased from 48% in 2006 to 61%, according to the latest survey. In the central and eastern areas, the share of those fluent in Ukrainian has not changed.
In addition, according to Mykhailo Mishchenko, in the central, southern, and eastern regions, there is a significant share of those who say that their level of Ukrainian is sufficient for everyday communication, but they find it difficult to speak it on special topics. In the central region, the number is 31.5%. In the southern region – 36%, and in the eastern region – 47%.
At the same time, he noted that the largest number of citizens who have difficulty communicating in Ukrainian is in the eastern region – 7%. In the south, it's 3%. In the central region – 0.9%, and 0% in the western region.
According to the survey, the number of citizens who consider Ukrainian their native language has increased significantly. These are 78% of respondents. For comparison, in 2017, the number was 68%. In 2015 – 60%, and 52% in 2006.
In his turn, discussing the results of the sociological survey, Viktor Yelenskyi, Head of State Service of Ukraine for Ethnic Policy and Freedom of Conscience, emphasized that the survey results show positive changes in the identity of Ukrainians.
"This study shows clearly how Ukrainians have changed during the 21st century, what they were, and what they have become. Therefore, it is obvious that identity is not a stable construct, and it is obvious that a lot depends on the policy of establishing national identity," he emphasized.
It should be noted that the study surveyed 2020 respondents aged 18 and older. The face-to-face survey was conducted in Vinnytsia, Volyn, Dnipropetrovs'k, Zhytomyr, Zakarpattia, Zaporizhia, Ivano-Frankivsk, Kyiv, Kirovohrad, Lviv, Mykolaiv, Odesa, Poltava, Rivne, Sumy, Ternopil, Kharkiv, Kherson, Khmelnytsky, Cherkasy, Chernihiv, Chernivtsi regions and the city of Kyiv (in Zaporizhia, Mykolaiv, Kharkiv, Kherson regions only in the territories controlled by the government of Ukraine and not subject to hostilities).
Read more: https://mediacenter.org.ua/news