Back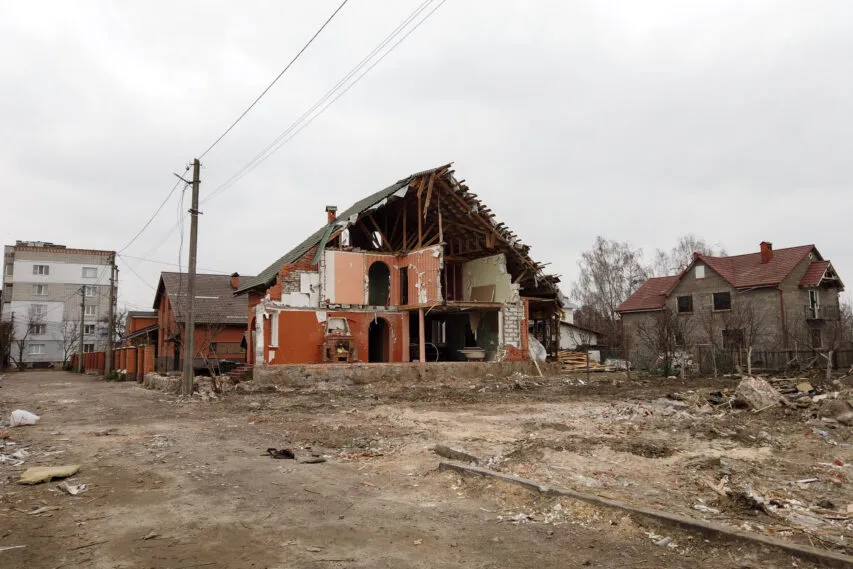 фото з facebook Віталій Бунечко
April 26, 2022, 13:34
"After the War Started, 1,505 Residential Buildings in the Oblast Were Damaged, and 54 Residents Killed," Head of Zhytomyr Oblast Military Administration
In Zhytomyr Oblast, 1,759 properties were destroyed or damaged after the start of russia's all-out invasion. They include 1,505 residential buildings and 68 education institutions. Two schools—one in Zhytomyr and one in Ovruch—were razed to the ground. Vitalii Bunechko, Head of Zhytomyr Oblast Military Administration, described the situation during his briefing at Ukraine Media Center.
In addition, 20 healthcare institutions, 22 culture and sports facilities, 20 industrial properties, and 3 administrative service centers were gravely damaged. Fifty-four civilians, including 4 children, were killed.
"Entire families were killed in their homes due to direct air bomb hits. In Ovruch, I saw a horrible scene of a car parked near a home that does not exist anymore. A family with two little kids used to live there. Now, there is no trace of their home. We cannot even sample the DNA of the people inside," Vitalii Bunechko said.
Ukraine Media Center. Follow the news via the links below:
Website: https://mediacenter.org.ua/
Twitter: https://twitter.com/CenterUkraine
Facebook: https://www.facebook.com/UkraineMediaCenter/
YouTube: https://bit.ly/3whbxSm 
Telegram: https://t.me/lvivmediacenter