Back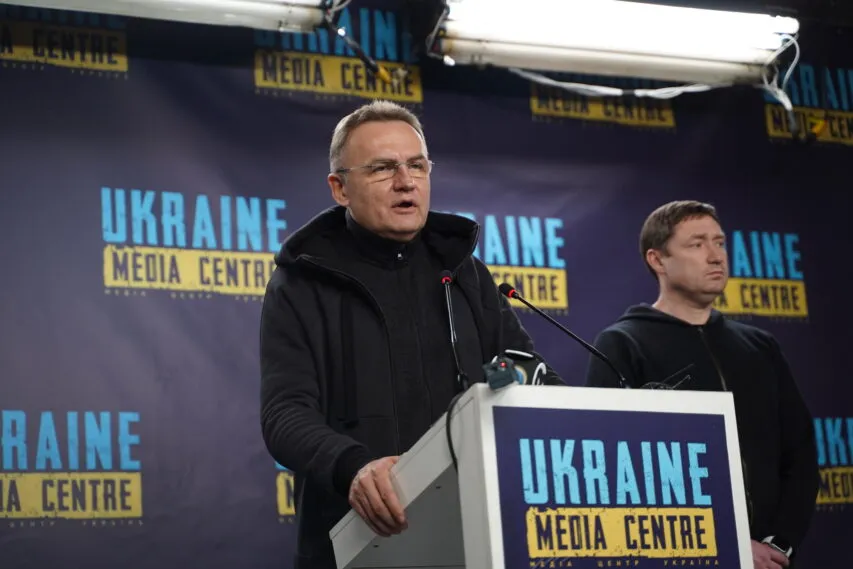 March 14, 2022, 13:21
"Accommodating All the Incomers Costs Lviv Over 1 million U. S. Dollars per Day," Lviv Mayor Sadovyi says
Accommodating all the newcomers to Lviv costs more than USD 1 million. Therefore, the city needs to build large mobile centres with appropriate living conditions and seek financial support. Andrii Sadovyi, the mayor of Lviv, disclosed this information at the press briefing in Ukraine Media Centre today. He said that the Lviv city government has so far been able to come up with funds on their own, but now the city is in genuine need of support from international organizations.
Below, you will find the highlights of the current situation in Lviv from the mayor.
Lviv had been preparing for the war even before it started, and the city government developed various scenarios with British experts. We took care to procure a stock of medicines and diesel generators.
By now, over 200,000 people from all over the country have come to Lviv. The city keeps functioning. More than 500 education, cultural, and sports facilities shelter temporarily displaced persons. I am most grateful to everyone who helps.
The level of crime in Lviv dropped down to zero. The 103rd and 125th Territorial Defence Brigades were organized in Lviv Oblast and the City of Lviv. These units of the Ministry of Defence of Ukraine are receiving training now. There are also volunteer associations of residents of the city who patrol the streets, taking care of our safety.

Today, I visited the military hospital together with the Head of the Military Administration. I am most grateful to all the medical workers helping our wounded service members. Today, our goal is to make sure that every military service member joins the ranks as soon as possible to defend our country.
The schools in Lviv have resumed the educational process in an online format. Today, more than 67,000 children living in Lviv and more than 1,000 children who came to the city from all over Ukraine have registered for schooling.
Polish politicians realize that the war has already come to their borders. Yesterday's explosions in Yavoriv Facility were best heard in Poland and the European Union. What happens if a missile falls on the EU territory? Here we need air defence systems and fighter aircraft. We need these decisions to be made urgently. In the 21st century, war is about speed. Every politician debating an issue rather than acting upon it has a degree of personal responsibility for the situation.
We want to remind you that Ukraine Media Centre started working in Lviv to support media covering the war unleashed by Russia against the Ukrainian people. The Media Centre will provide information support to journalists currently working in the City of Lviv and Lviv Oblast. In addition, the Centre will host daily press briefings by government officials, international partners, and activists from Lviv and other cities of Ukraine.