Back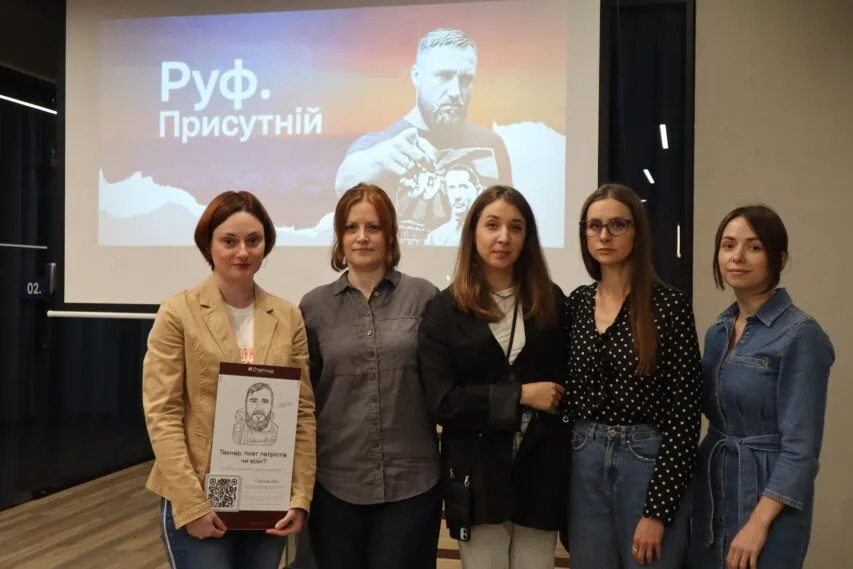 August 9, 2023, 10:00
"A Ukrainian should help a Ukrainian." The Memorial Platform presented the documentary film "Ruf. Present" about the deceased soldier Yurii Dadak (Ruf)
The documentary tells the story of Yurii Ruf (Dadak), who died in the Luhansk region on April 1, 2022, defending Ukraine from the Russian invaders.
He was a well-known poet, public activist, associate professor at the National Forestry University of Ukraine, presenter, and founder of the Ґwear clothing brand and the Spirit of the Nation literary and educational project, which he was engaged in until February 24, 2022.
"Yurii managed to do a lot of things. When I woke up at night, he was gone, and I immediately looked around. It was dark. It was night outside. Where was Yurii? You look and see that the lights are on in the office, which means he's doing something, thinking of something. He was always coming up with something," his wife Iryna recalls.
According to Iryna, Yurii wanted to join the army in 2015, but the couple was expecting a daughter. In 2022, the hero could not engage in exclusively public activities and immediately, after the full-scale invasion, joined the 24th Separate Mechanized Brigade of the Armed Forces of Ukraine, where he served until April 1, 2022.
"'Ruf. Present" is one of a series of documentaries by the Memorial Platform aimed at preserving the memory of those killed in the war.
"This movie is about struggle, inspiration, loyalty to yourself, your family, country and ideals. Yurii Ruf always said that a Ukrainian should help a Ukrainian. His actions and words will inspire many generations of Ukrainians. And he is forever present in our thoughts, actions, victories, and accomplishments," says Olena Zhylun, the author of the film.
You can watch the documentary on the Memorial's YouTube channel on August 9 at 8 pm.
Watch the full video of the presentation of the film on the YouTube channel(in Ukrainian).
📍Media Center is located at 20 Ruska Street and functions as a co-working space from 10:00 AM to 6:00 PM.
Contact phone:
+38 067 652 91 97
Read more: https://mediacenter.org.ua/news