Back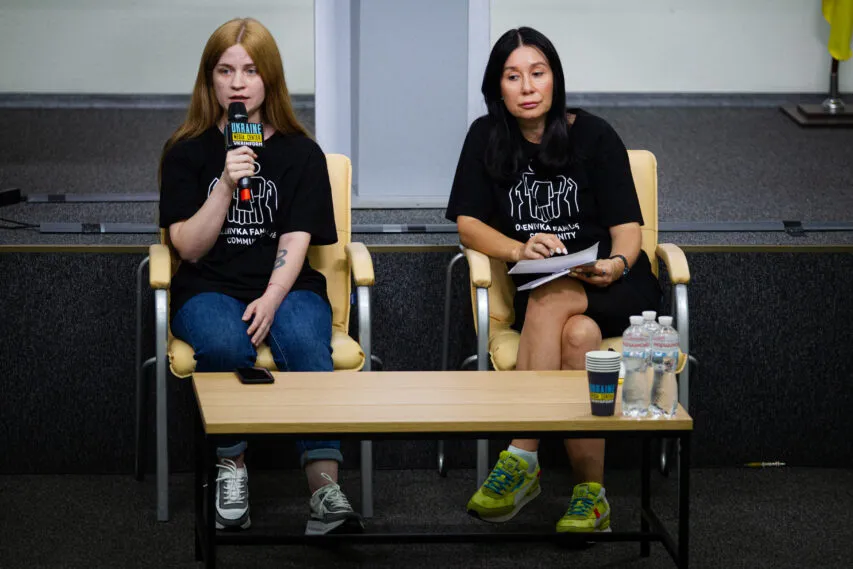 August 31, 2023, 18:08
A single case file should be collected to bring together all those wounded in the attack in Olenivka – the family members of the defenders
11 seriously wounded defenders suffered in the terrorist attack in Olenivka returned home in September last year. Today, according to the Russia-compiled list, there are 59 more severely wounded who were hospitalized after the attack. This information was provided by Anastasiia Hondiul, wife of a wounded soldier of the Azov regiment, during a briefing at the Media Center Ukraine – Ukrinform.
During the discussion, the family members of Ukrainian defenders emphasized that they were doing everything possible to bring their loved ones back. However, they claim that today, there is no separate case of seriously wounded prisoners of war during the terrorist attack in Olenivka.
In particular, Mariia Alieksieievych, wife of a wounded Azov regiment soldier, said: "Now the terrorist attack in Ukraine is being investigated under Article 438 of the Criminal Code of Ukraine, i.e., violation of the laws and customs of war. However, investigators are only dealing with the cases of those killed in the attack, while the cases of the wounded are handled by administrative bodies all over Ukraine. Many relatives of the wounded do not know where the decision-making administrative body is located, who is the investigator, and there are no contacts of the investigators."
She noted that for more than six months, the relatives of the defenders, who united in the "Community of Olenivka Families" NGO, have been trying to bring together the cases of both the wounded and the dead into one big issue of the terrorist attack so that it could be investigated comprehensively.
"And so that we can show the result to the international community, for example, the International Criminal Court, the UN Court of Justice, the UN Human Rights Committee. That is, we must cover all the facts of this Russian crime to draw foreign public attention for further international investigation," explained Mariia Alieksieievych.
Read more: https://mediacenter.org.ua/news