Back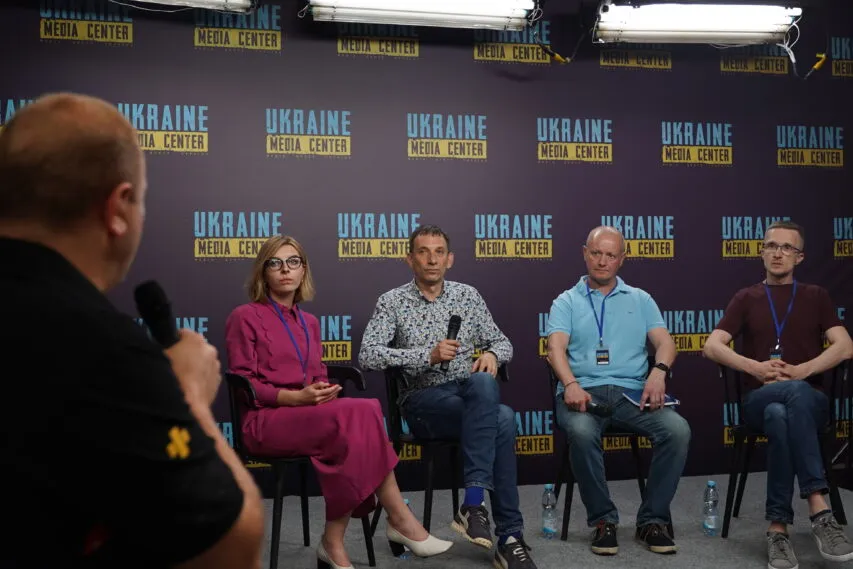 Учасники дискусії під назвою «Фейки, пропаганда, ІПСО: як не стати жертвою» у Медіацентрі Україна, 27 липня
July 27, 2022, 15:45
A discussion on how not to fall prey to fake news and enemy propaganda took place at Media Center Ukraine
How propaganda works and how not to fall prey to it – experts talked about these and other subjects within the framework of a discussion "Fake News, Propaganda, PSYOPS, and How Not to Fall Prey to Them," which took place at Media Center Ukraine. The discussion panel included Mariia Sahaidak, an expert at the Center for Strategic Communications and Information Security; Kostiantyn Kvurt, chair of the board at Internews Ukraine; Yaroslav Ivanochko, deputy managing editor at ZAXID.NET; and Vitaly Portnikov, journalist, blogger, and publicist.
You can view the discussion video here.
Quotes of panel members follow:
Mariia Sahaidak, an expert at the Center for Strategic Communications and Information Security, described the methods of russian propaganda:
"Speaking of the russian propaganda, its methods are aimed not only to deceive but to sow chaos and spread panic, forcing people to be in doubt. Methods, channels, and platforms depend on the goals the russian propaganda pursues. russia applies some techniques in the russian environment, employing other methods in the Ukrainian environment or something entirely different for the Western audiences. While we can see mainly outright lies and fake news used in russia, the most popular message for Western audiences is that "not everything is that unambiguous." Because people in the world do not believe russia's outright lies."
Vitaly Portnikov, journalist, blogger, and publicist, talked about the sources of inspiration for the russian propaganda:
"Let me remind you that students of the Journalism Department of moscow university studied counter-propaganda during their reserve officer training. They were bent on destroying the enemy through counter-propaganda (or, rather, propaganda – Moderator). We studied using a handbook by Spartak Bieglov; later, while reading Paul Joseph Goebbels' books on propaganda, I realized that he had just copied the handbook from the books by Paul Joseph Goebbels."
Kostiantyn Kvurt, Chair of the Board at Internews Ukraine, invited attention to the scale of coverage by the russian propaganda:
"russia understands that it is a "long game," and they can play "long games." However, can the West do it, with elections held every year in some countries? They broadcast the idea to African, Asian, and Latin American countries that this war aims to defend the hungry and persecuted against the fat West. And that russia is defending the hungry and persecuted. If we look at UN votes, many countries did not support sanctions against russia."
Yaroslav Ivanochko, Deputy Managing Editor at ZAXID.NET, spoke about the work of journalists during the information war:
"The amount of questionable information grew severalfold after February 24. Every day, one needs to re-read it and verify it to the extent we can because much information is not verifiable and is eliminated. (What kind of information is that? — Moderator) I refer to information from places where there is no journalist and information from behind the front lines. It is, for instance, information about today's missile attack on a bridge in Kherson. Everyone published a doctored photo of the bridge, with a hole in the bridge instead of one span. It was photoshopped. But everyone is sharing it. Nobody refutes it. The thinking media should analyze it somehow and show more restraint. So, there is much news like this during the day. And we have to sift it out.
Read more: https://mediacenter.org.ua/news