Back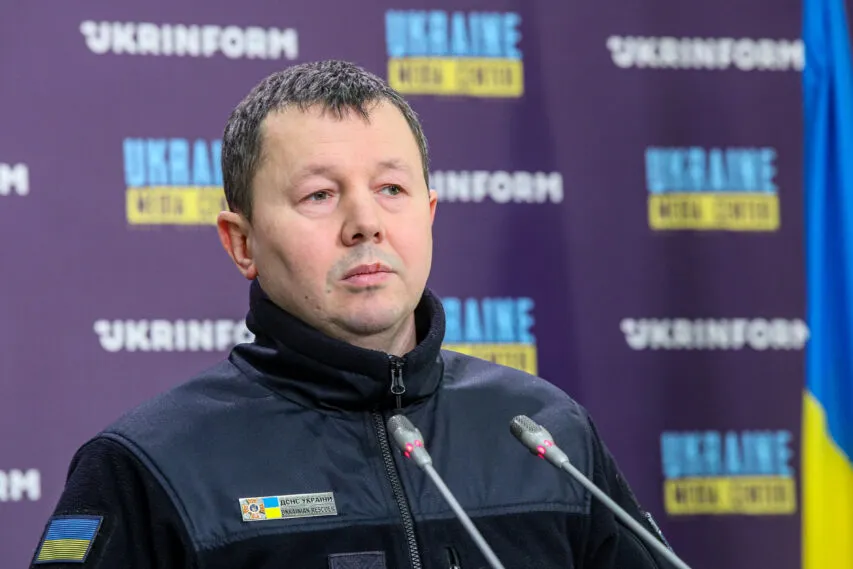 Volodymyr Demchuk, Director of the Emergency Response Department of the State Emergency Service of Ukraine, Major-General of Civil Protection Service, Media Center Ukraine — Ukrinform
February 8, 2023, 13:35
A crew of Ukrainian rescuers bringing the equipment and search-and-rescue dogs is on its way to Türkiye to aid in earthquake aftermath — State Emergency Service
Already more than 60 thousand people are involved in eliminating the consequences of the earthquake in Türkiye, and 43 countries have already started assisting. The State Emergency Service organized a team of rescuers who went to the affected country to help. Volodymyr Demchuk, Director of the Emergency Response Department of the State Emergency Service of Ukraine, Major-General of Civil Protection Service made this statement during a briefing at the Media Center Ukraine — Ukrinform.
"The rescuers were mobilized by the State Emergency Service, according to the decree of the President and the executive order of the Cabinet of Ministers of Ukraine, according to the head of the State Emergency Service of Ukraine, Serhiy Kruk order.
These are the most trained specialists who can work in the conditions of earthquakes during man-made debris. The main objective is to search and pull out from the wreckage the surviving citizens, providing them with first aid. The equipment organized as part of this detachment was directed to search and rescue people in ruins effectively. The сrew also includes ten search and rescue dogs. The team was previously mobilized for ten days, but according to the situation, there will be a separate decision on how long they will stay," — Demchuk said.
The Major General claims that the willingness of the Service to perform duties on the territory of Ukraine was considered during the formation of the detachment.
"I want to assure you that the capacity of the State Emergency Service has not deteriorated. The State Emergency Service is ready to carry out tasks on the territory of our state. The detachment did not affect the reduction of willingness," — Demchuk reported.
Read more: https://mediacenter.org.ua/news