Back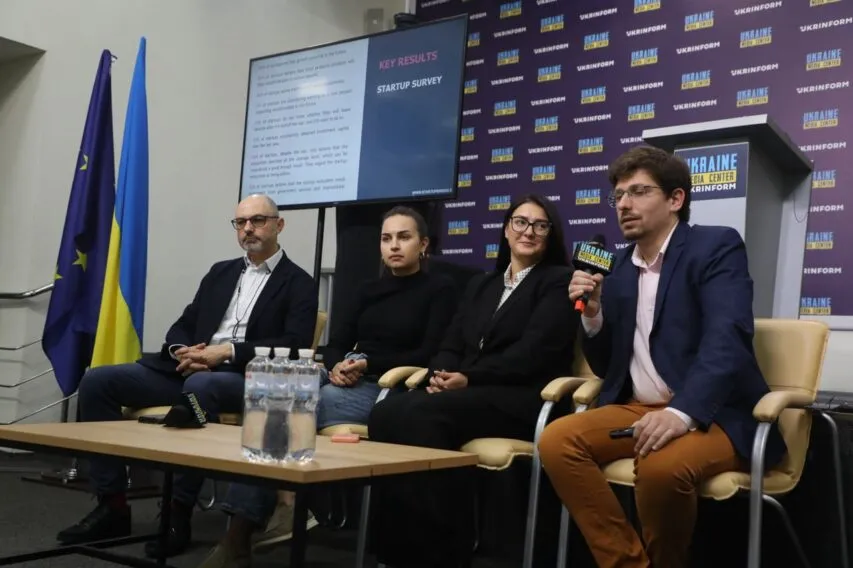 November 8, 2023, 15:21
90% of Ukrainian startups see their potential in the future reconstruction of the country as very high – report findings
Ukrainian startups have their own solutions, they know how to implement them, how to develop them, they have faith in the victory, faith in the future and faith that they can be part of reconstruction efforts. Thus, 90% of Ukrainian startups see their future potential as very high.
These are the results of the analysis of the Ukrainian startup ecosystem conducted by the Polish-Ukrainian Startup Bridge (PUSB) together with its partners, the Ukrainian Startup Fund and the Warsaw Stock Exchange, which were presented as at the country's main discussion platform BrainHub at Media Center Ukraine – Ukrinform.
According to Lukasz Wawak, Manager of Polish-Ukrainian Startup Bridge, the results of the analysis suggest that 31% of startups managed to find investors. And this, in his opinion, can be considered a great success, because now it is very difficult to get investments in Poland, Ukraine and Europe in general.
In addition, the analysis shows that 46% of startups believe that the startup ecosystem in Ukraine is working. According to Lukasz Wawak, this is an incredible result, especially amidst the war and the fight against the russian aggressor.
In turn, Kateryna Hrechko, CEO of Techosystem, drew attention to the fact that the focus of the report and its value is that it shows the interaction of startups with institutions. According to her, that's why an institution is currently being developed that facilitates and helps to establish synergy and a dialogue between the state and small and medium-sized enterprises in the IT field.
"Our goal is to increase the share of IT in Ukraine's GDP within 5-7 years. We understand that Ukraine has had more of a service history, that is, we still provide high-class services of our software companies to other countries and other companies. But now the Ukrainian product has reached a completely new level – the level of creativity and challenges. And here our task is to ensure that Ukrainians have this spirit of entrepreneurship, receive support, starting from the family and ending with the state, and receive support particularly from organizations such as ours," she added.
BrainHub is the country's main discussion platform created by Media Center Ukraine – Ukrinform. It brings together experts from the state and civil society sectors. BrainHub hosts intellectual discussions around the issues of the post-war reconstruction of Ukraine. It's the birthplace of the best ideas that will become the foundation for the road map of Ukraine's reconstruction in all sectors: economy, infrastructure, education, agriculture, security, digital, etc.
Read more: https://mediacenter.org.ua/news