Back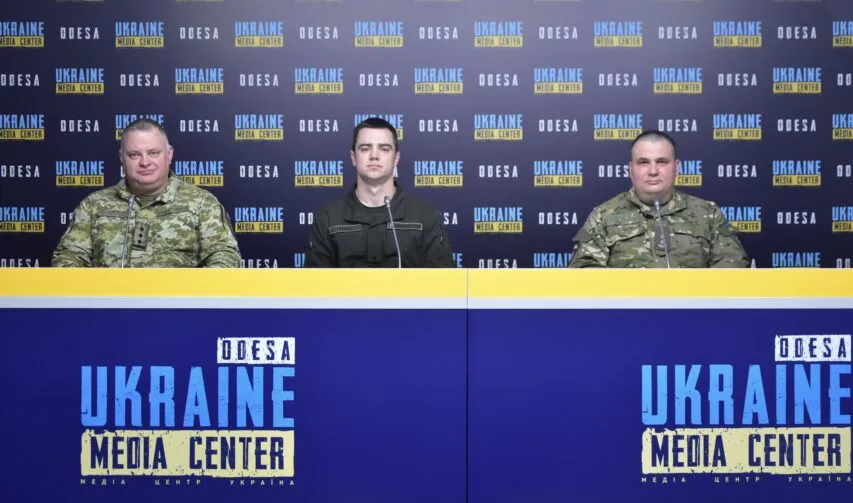 Media Center Ukraine – Odesa: Denys Ryzhuk, deputy head of the Southern Regional Staff Department of the State Border Service of Ukraine; Volodymyr Belov, senior officer of the Southern Department of Procurement of the Image and Publishing Center of the National Guard of Ukraine; Oleksandr Pashko, deputy head of the department of the special operations police department "United Assault Brigade of the National Police of Ukraine "Lyut"
May 5, 2023, 12:56
9 brigades of the "Offensive Guard" have already been formed – a few russians wanted to join ranks 
Applications for admission are still coming in, so the brigades are forming reserves. Representatives of the State border guard service, National guard and National police told about this at a briefing in the Media Center Ukraine – Odesa.
"The 15th mobile detachment "Steel Border" has been recruited, now the final stage of preparation for the President's tasks is underway. The majority of personnel are those who have already fought in the north and east. About 70% of them have some battle experience," – Denys Ryzhuk said. He is the deputy head of the southern regional staff department of the State border guard service of Ukraine.
As Volodymyr Belov, the senior officer of the southern department of the PR-center of the National Guard of Ukraine, the "Offensive Guard" includes 7 brigades of the National Guard – "Azov", "Spartan", "Rubizh", "Chervona Kalyna", "Kara-Dag", "Bureviy". There is also the newly created brigade "Chartiya".
"Each unit is provided with everything necessary – first-aid kits, new weapons, tanks. Recruits undergo training at the moment. Reserve units are also being formed, applications are still coming in. Foreigners, citizens of Portugal, and Russians came to us. They pass the inspection and either get into the brigades or not," – the officer added.
According to Oleksandr Pashko, deputy head of the department of the special purpose police department "United Assault Brigade of the National Police of Ukraine "Lyut", the unit includes the "Safari" and "Tsunami" regiments, the "Luhansk-1" battalion named after the Hero of Ukraine Serhiy Gubanov.
"55% of servicemen took part in hostilities and performed well in the South, North, and East. I want to thank those who train our fighters – health care institutions, police SWAT "Kord" instructors, educational institutions of the Ministry of Ukraine. The brigade is equipped with NATO and Soviet armored vehicles, anti-aircraft weapons, artillery", – the officer noted.
Read more: https://mediacenter.org.ua/news