Back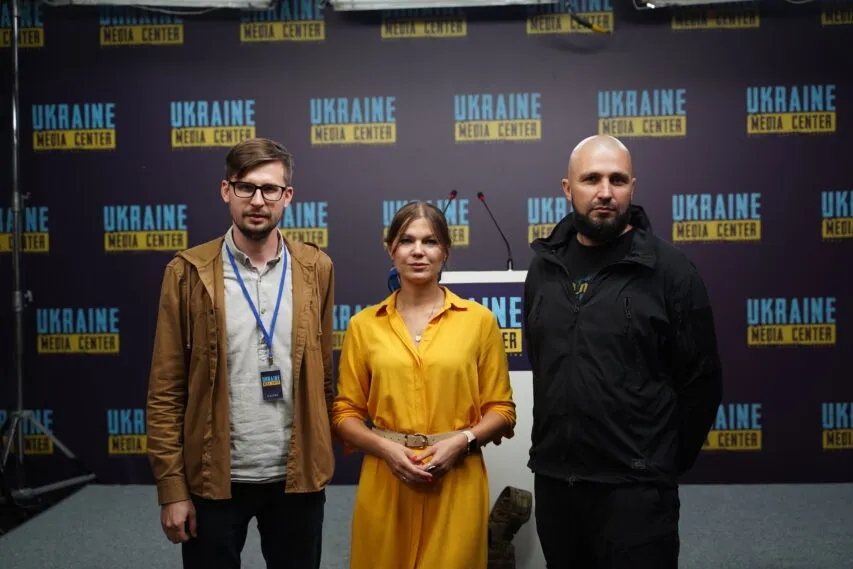 Максим Терлецький, Оксана Шахова та Максим Плєхов у Медіацентрі Україна, 10 серпня
August 10, 2022, 15:35
80,000 bulletproof vests made since start of all-out war: Lviv Defense Cluster ready to continue providing army with means of protection
80,000 bulletproof vests have been produced by Lviv Defense Cluster since the beginning of russia's full-scale invasion. The cost of each is UAH 5,000, which is three times cheaper than the average price on the market. Maksym Pliekhov, CEO of Lviv Defense Cluster spoke about this during a briefing at Media Center Ukraine. According to him, he and his team have 8 years of experience in the production of body armor. They had been doing it in Kharkiv, but at the beginning of the full-scale invasion, they relocated to Lviv, where they joined forces with local entrepreneurs and local authorities. This is how Lviv Defense Cluster was created. Maksym Pliekhov says that one of the challenges at the beginning of their work was to choose the model of the bulletproof vest that was going to be manufactured.
"When my colleagues and I were thinking about which of our models to use as a basis, we decided to stop at the bulletproof vest developed by Kharkiv Plant of Personal Protective Equipment for Bulgarian Special Operations Forces. So we chose the perfect version of the perfect vest," — Pliekhov said.
According to Pliekhov, in addition to body armor for the military, they are also making protection for medics. In particular, they are trying to provide ambulance crews in Kharkiv with body armor. They say there is a need for at least 7,000 items.
"If there is a need, we will continue our activities to provide the country with body armor. Lviv Defense Cluster can perform any volunteer task. We joke that maybe in 3 years we might end up producing tanks," — Maksym Pliekhov said.
According to the co-founder of the cluster, Oksana Shakhova, the team will work as long as it takes.
"What is impressive is that the enthusiasm remains high. There is a big goal, and as long as this goal is needed, as long as we understand that we can do something for the country, each of Lviv Defense Cluster members will work, and the cluster will move forward," — Oksana Shakhova said.
According to Maksym Terletskyi, Deputy Director of the Strategic Planning Center of the City Institute of Lviv, the city authorities are ready to further assist in the work of Lviv Defense Cluster.
"Perhaps, over time, we will add more companies that have relocated to Lviv. There are many companies in the military-industrial complex, with which we can cooperate to establish production. There may be more interesting ideas and results ahead, but we will not announce them yet," — Maksym Terletskyi said.
Lviv Defense Cluster unites specialists of defense enterprises, volunteers and production facilities from all over the country to provide the Defenders of Ukraine with high-quality and well tested body armor. The Cluster has its own laboratory for testing finished products. Ukraine's Defense Ministry has designated Lviv Defense Cluster as the main coordinator of the volunteer movement for the production of body armor. The cluster's operation is backed by charitable donations.
Read more: https://mediacenter.org.ua/news