Back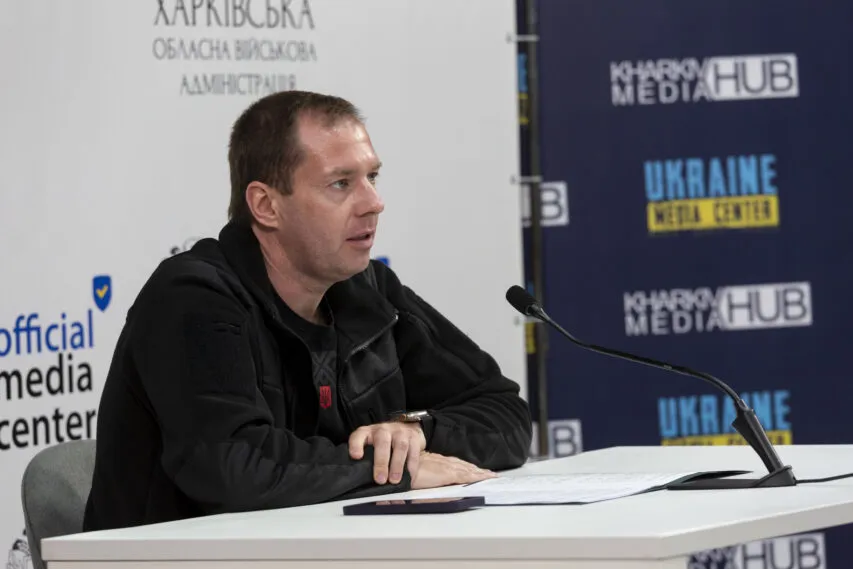 Photo Media Center of Ukraine - Kharkiv: Deputy Chief of KhOVA Yevhen Ivanov
October 6, 2023, 21:59
574,000 hectares of agricultural land remain contaminated with explosive devices in the Kharkiv region: Deputy Chief of KhOVA Yevhen Ivanov
On October 4, a briefing was held in Kharkiv Media Hub with the participation of Yevhen Ivanov, Deputy Chief of the Kharkiv Regional Military Administration. The official spoke about the progress of field work in the Kharkiv region and the state of demining process of agricultural lands.
According to Yevhen Ivanov, work is currently underway in the region to harvest strategic crops – sunflower and corn. The winter wheat sowing campaign is also in full swing.
– Agricultural work in the Kharkiv region is carried out on an area of more than 1 million 178 thousand hectares, which is 12% more than the forecast of some experts. But at the same time, for all cultures, we observe a drop in yield from 30% to 60%. This is primarily due to the condition of the land that was not sown in 2022, as well as the lack of funds for full-fledged agricultural care, – notes the deputy head of KhOVA.
However, according to him, the sowing of potatoes and other vegetable crops increased this year.
– We have an expansion of the list of such crops – farmers are trying to find simpler ways of care and vegetables that would have a profitable price and a higher yield in the conditions of destroyed logistics, – the speaker declares.
Since the de-occupation of most of the Kharkiv region, with the participation of international non-governmental organizations, field demining works have been ongoing. According to Yevhen Ivanov, 65,000 hectares of territory have been surveyed and demined at the moment. 574,000 hectares of agricultural land in the Kharkiv Region remain contaminated, 159,000 hectares of which are priority areas. Since the beginning of the year, 44,000 hectares of such land have been surveyed – almost all of these lands are subject to demining.
– We hope that by next year we will see an increase in the number of demining areas – we have all the prerequisites for this – emphasized the deputy chief of the Kharkiv Regional Military Administration.
Also, during the briefing, the speaker touched on the issue of assistance to farmers in the region from the state, international charitable organizations, and the European Union.
Read more: https://mediacenter.org.ua/news