Back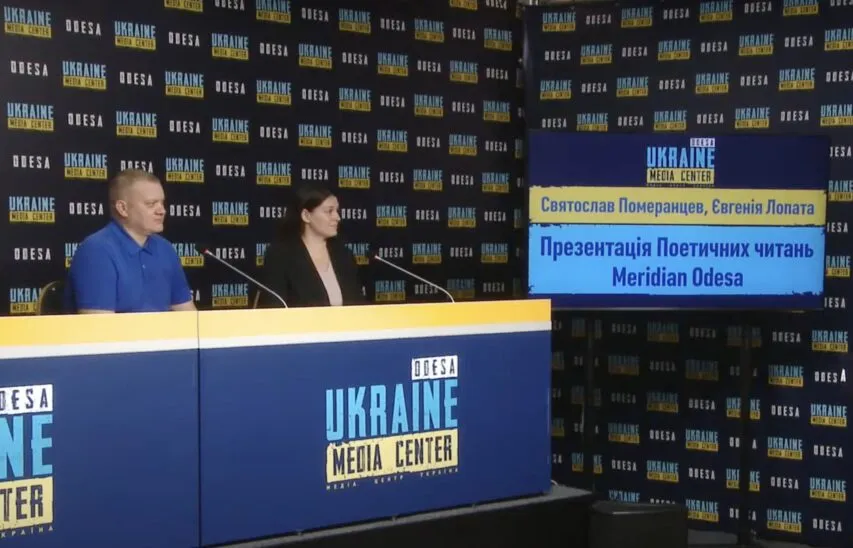 October 31, 2023, 15:21
This is not an entertainment event – Meridian poetry readings will be held in Odesa
On November 3-5, the UNION Cultural Center at 43 Troitska Street in Odesa will host the Meridian Odesa Poetry Readings, a large-scale literary event with the participation of leading Ukrainian writers and volunteers.
This was announced at a briefing at the Ukraine-Odesa Media Center by Svyatoslav Pomerantsev, President of the Meridian Czernowitz International Literary Corporation.
"I would like to warn everyone that this is not an entertainment event. We are promoting Ukrainian culture, and those who struggle for victory. There are even those who defend Ukraine on the battlefield among participants," the event organizer said.
The 3-day cultural event will feature presentations of Ukrainian books, including poetry collections "[dasein: defense of presence]" by by Yaryna Chornohuz, Days of Anxiety by Anatoliy Dnistrovyi and BUKWAR by Halyna Kruk, a collection of documentary war prose Point Zero by Artem Chekh, a collection of short stories by Roman Malynovskyi, Sweet Life, a book of essays by Valeriy Puzik, Love, Dad! ", the book "Burchak" by Taras Prokhasko, and the anthology "Martial Law", the foreword to which was written by the Commander-in-Chief of the Armed Forces of Ukraine, General Valeriy Zaluzhny.
In addition, as part of the readings, the exhibition "Paintings that became books" will be on view in the underground galleries of the cultural center. The exposition includes paintings by representatives of the highest artistic league of Ukraine – Matvii Vaisberg, Olena Pryduvalova, Vlodko Kostyrko, Kateryna Kosianenko, as well as graphics by Serhii Zhadan. These works became the "faces" of books by Yuriy Andrukhovych, Andriy Lyubka, Taras Prokhasko, Serhiy Zhadan, and Oleksandr Roytburd.
After Odesa, the Meridian readings will take place in Ukrainian cities even closer to the frontline – on November 6 in Mykolaiv, November 7 in Kherson, and November 8 in the Unbreakable Hub shelter in Zaporizhzhia.
Read more: https://mediacenter.org.ua/news