Back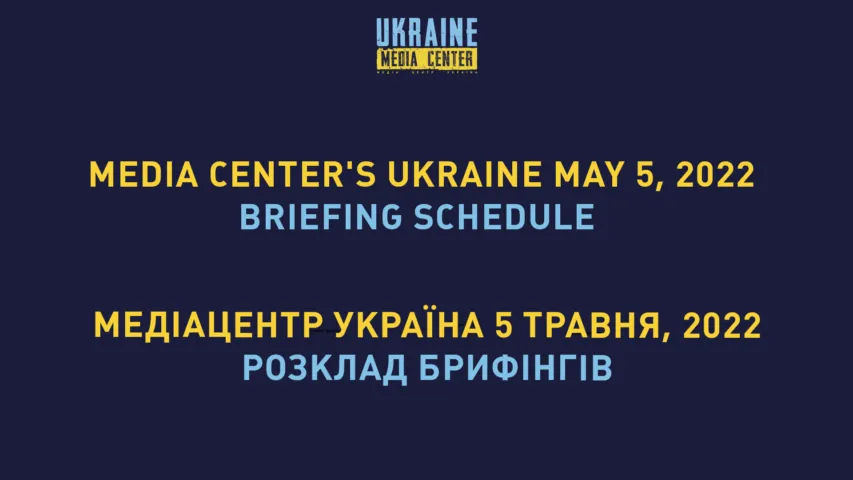 May 4, 2022, 18:26
UPDATED SCHEDULE OF UKRAINE MEDIA CENTER EVENTS (LVIV, 32 RYNOK SQUARE) FOR MAY 5
11:30 — Lyuba Shipovich, Cofounder and Vice President of NGO Razom for Ukraine
Evelina Kurilets, CEO of NGO Razom for Ukraine
Vitaliy Svichynskyi, Head of « Children we will make it» social movement, father of a SMA child
(personal attendance by all)
Current topics:
Evacuation of children with special needs from hotspots: 300+ children with families and a trip of over 50,000 km
Delivery of tactical medical supplies and means of communication to the frontlines: why the military still need volunteer support
How USD 40 million of help for Ukraine was raised in the U.S.A.
Why this is important:
«Children we will make it» is a social movement born from a campaign to raise money for the most expensive medicine in the world (Zolgensma) used to treat people with spinal muscular atrophy (SMA).
As of today, NGO of Razom for Ukraine has evacuated over 300 children with special needs and their families from the hotspots
For more insight into organization's activities check:
https://razomforukraine.org/evacuation-for-children-with-disabilities/
https://video.foxnews.com/v/6304159397001#sp=show-clips
https://forbes.ua/company/bogi-fandreyzingu-khto-zaluchiv-naybilshe-groshey-dlya-ukraintsiv-ta-armii-pid-chas-viyni-renking-vid-forbes-07042022-5327
12:30 — Tymofiy Mylovanov, the President at Kyiv School of Economics, Economic Development Minister (2019-2020), Advisor to the Head of the Office of the President of Ukraine (online)
Current topics:
Ukraine's economy in wartime: current state and immediate prospects
Economy of recovery: what will Ukraine do after the victory
Hryvnia forex rate: how we manage to maintain and preserve stability
14:00 – Anatoliy Bondarenko, Cherkasy Mayor (online)
Current topics:
the impact of rocket strikes in the city
the humanitarian situation in Cherkasy
the economic situation in the region
16.00 — SPECIAL EVENT
Topic: What to do upon noticing explosives: training for refugees
Why this is important: During the training, experts will show examples of explosive and suspicious objects, and teach refugees how to properly act in case of finding such objects.
The event will be held by the representatives of the Main Directorate of the State Emergency Service of Ukraine in Lviv oblast, Lviv State University of Life Safety and Lviv City Council HR Department.
ATTENTION! ADDRESS CHANGE: 22 Ulasa Samchuka Str. (Sensoteka)
17:00 — SPECIAL EVENT
Topic: Debate with Dorje Batuu, author of Ukrainian bestsellers about Francesca and Mozart, as well as «Old Lama's Secret», on his new novel «Coco 2.0».
Debate moderator: Marjana Savka, Editor in Chief and Cofounder of Old Lion Publishing House
Why this is important: Dorje Batuu is a Ukrainian author of Buryat origin, who lives and works in the U.S.A. Dorje Batuu worked for NASA in 2016— 2020
ATTENTION! ADDRESS CHANGE: 24—26 Staroznesenska Str. (Kulturrra cafe at !FESTrepublic)
Read more: https://mediacenter.org.ua/news