Back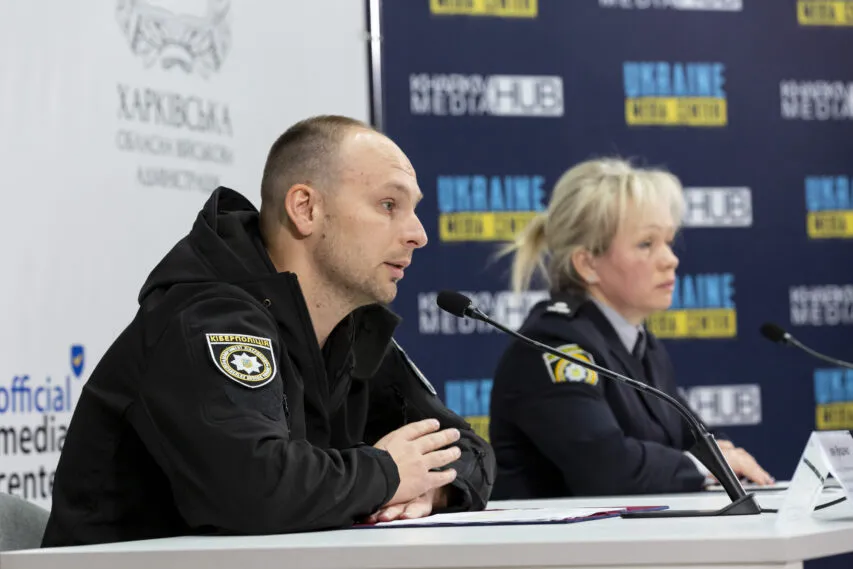 Photo Media Center of Ukraine - Kharkiv: Ivan Yareshchenko, Lyudmila Fedorova
October 20, 2023, 19:47
Representatives of the cyber police of the Kharkiv region told how citizens can join the "Cyber Army"
The other day, a briefing was held in Kharkiv Media Hub on the topic: "Implementation in the Kharkiv region of a nationwide information campaign to counter the increase in the number of frauds related to the implementation of financial transactions via the Internet, fraudulent (fishing) messages, Internet begging, and emergency fraud." Speakers on the topic of the event were police major Ivan Yareshchenko, deputy head of the 2nd department (combating types of online fraud) of the Cybercrime Countermeasures Office in the Kharkiv region of the Department of Cyber Police of the National Police of Ukraine, and police major Lyudmila Fedorova, head of the operational search and partnership sector in the field of information technologies.
In her speech, Lyudmila Fedorova noted that the full-scale invasion of russia became the basis for the spread of fraudulent schemes among the population of Ukraine. Therefore, the head of the National Police of Ukraine was instructed to conduct a nationwide information program on the prevention of fraud and other types of offenses committed using electronic computing equipment or Internet resources.
According to the speaker, throughout 2023 representatives of the cyber police of the Kharkiv region and other units will carry out numerous measures to combat the specified offenses, in particular: speeches in educational institutions, institutions and organizations, preparation of video materials aimed at training in the safe use of smartphones and how to recognize swindlers
-In addition, since the beginning of the great war, representatives of the cyber police have created several resources aimed at combating illegal resources on the Internet, taking measures to bring criminals to justice, as well as to combat russian propaganda, – noted the head of the operational search sector and partnerships in the field of information technologies.
The officer noted that if a person has come across a fraudulent resource or scheme, or has become a victim of Internet scammers, they can seek help through the Cyber Police Department's chatbot on the Telegram network.
-The specified bot also accepts messages about resources that distribute illegal content and about resources created to acquire personal data.
Lyudmila Fedorova said that police officers moderate these links, check for illegality, process information to identify the "owners" of such sites, and set tasks for the participants of the cyber police chatbot, by completing which they become "cyber soldiers".
-In addition, blocking such resources provides an opportunity for other citizens not to fall into the "trap" of criminals, – the speaker emphasized.
In turn, Ivan Yareshchenko spoke about the types of frauds that currently exist on the Internet and how to deal with them for the average Ukrainian.
-In addition to calls from, allegedly, bank employees and phishing, with the advent of wartime in Ukraine, Internet fraudsters are trying to steal money from our fellow citizens under the guise of social payments from the "UN, the Red Cross and the President of Ukraine", by posting ads on social networks, Viber or Telegram channels. Taking possession of a person's data through a criminal scheme, criminals take out large sums of credit in their name or debit funds from the victim's accounts to their own, the police officer pointed out.
According to the deputy head of the department for combating types of online fraud, the Kharkiv police are actively fighting such crimes. Thus, in 2023, law enforcement officers liquidated 7 illegal scan communities throughout Ukraine and detained about 20 people. He also noted that half of the representatives from similar organized illegal groups are citizens of the aggressor country.
Read more: https://mediacenter.org.ua/news